Archived News Item
Making some lasting efforts
June 22, 2012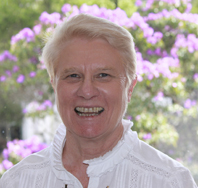 The colour of the tree reminds me of the suffering, death and resurrection of Jesus Christ. In the depth of suffering is the beauty of the Resurrection, just as in the beauty of the tree. Contemplation of the truth of the death and resurrection of Jesus was central to Catherine McAuley's spirituality. For her it was the ultimate act of love. Thus, it was the redeeming action of Jesus which motivated Catherine to spend her life 'making some lasting efforts for the relief of the poor and suffering'.
The calendar on the wall has a quote from Catherine's Retreat Instructions. It says very simply 'if we love God we will undoubtedly love our neighbour also; they are cause and effect'. What a challenge and what motivation these instructions provide for us who are involved in the life of Mercy Works! We are called to face the causes and effects of poverty in our world and to work with our partners to alleviate the suffering which poverty has caused.
I am pleased to report that the work of Mercy Works is expanding. A larger number of requests has been received this year and in most cases we have been able to respond.This is in addition to the assistance already being afforded to continuing programs. All are geared towards making some lasting efforts for the relief of the poor and suffering as each program encourages self-sufficiency and self-determination for its recipients.
I have been sitting at this desk for a few short months and very quickly I have come to appreciate the generosity of so many friends of Mercy Works. From schools and corporations to individual donors, the motivation to put love into action is clearly manifest. Your continuing support is very much appreciated.
My transition to this work has been made easy because of the dedication and expertise of the staff and volunteers. The Board, too, is ensuring that the careful stewardship of the organisation is maintained and enhanced. For all this I am grateful. May we all continue to work together to give flesh to Catherine's desire to bring about lasting relief in our poor and fragile world.
One way everyone can help is through the Friends of Mercy. This is a very easy way for anyone to assist us. For a low annual subscription, the Friends of Mercy Works provide vital support to our programs and make a big difference to what we are able achieve in supporting people in desperate need. If you know someone who might like to join the Friends of Mercy Works, please call us or visit our website.
Ailsa Mackinnon RSM AM
Executive Director