Archived News Item
MAG-net expanding its horizons
July 29, 2009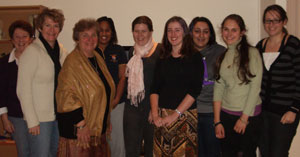 MAG-net (Mercy Action Group Network) is a group of young Mercy women who gather once a month in Sydney to share about living Mercy in their everyday lives. Recently the group invited two Sisters of Mercy – Mary-Louise Petro RSM (Parramatta) and Cathy Solano RSM (Melbourne) – to talk about their ministries. Sister Margaret Sheppard RSM (Parramatta) reports.
MAG-net is a group of young Mercy women who gather once a month in Beranga Nangami (The Gathering Place for Dreaming) in Ryde, Sydney, to listen to and share with each other about living out Mercy in their everyday lives. As part of some gatherings, special presenters are invited to speak about their involvement in mercy and justice issues – local, national and international.
This year MAG-net has been honoured to have two dynamic Mercy Sisters – Sister Cathy Solano RSM, Community Education Officer at Mercy Works Inc, and Sister Mary-Louise Petro RSM, Chief Executive Officer of Mamre Plains Ltd. Both women are deeply imbued with Catherine McAuley's vision and spirit to serve the vulnerable, sick, poor and uneducated, and so spoke inspiringly about their ministries.
Sister Mary-Louise shared enthusiastically and engagingly about the many exciting ventures undertaken at Mamre Plains Ltd which began its ministry of service to the people of Western Sydney over 20 years ago. The Mamre Project, which has many endeavours working in partnership with other agencies, ranges from Links to Learning, Disability Services, Registered Training and Placement Programme and Southern Sudanese Refugee Programme, to enterprises such as the Homestead Café, provision of a Function and Conference Centre, and Garden Services conducted by Mamre's Disability Service teams.
With so many varied and exciting ventures at their 'doorstep', the MAG-net women were invited to be part of Mamre's ministries as volunteers at whatever level each woman is able to manage.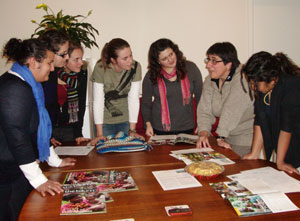 Mercy Works Inc., also with its many programmes (detailed in its beautifully designed and informative magazine The Bilum), was brought to vivid life by Sister Cathy. Her obvious love for the communities who are supported locally and internationally through Mercy Works Inc. and its partners, was infectious.
Sister Cathy's own experience in education and community development roles in Pakistan, Uganda and Sudan, added a personal, inspirational dimension to her presentation and brought yet another challenge to the MAG-net women to become engaged in the support of Mercy Works Inc.
Sister Rosemary Carroll RSM, Executive Officer of Mercy Works Inc., in her introduction to this year's June edition of The Bilum, calls upon its readers "…to be compassionate, just and wise global citizens…" The MAG-net women, in their own small ways, are attempting to respond to such a challenge.
From: Sister Margaret Sheppard RSM, on behalf of MAG-net (Mercy Action Group Network)