Archived News Item
MacKillop Family Services explores child safe practice and prevention at its inaugural conference
April 30, 2018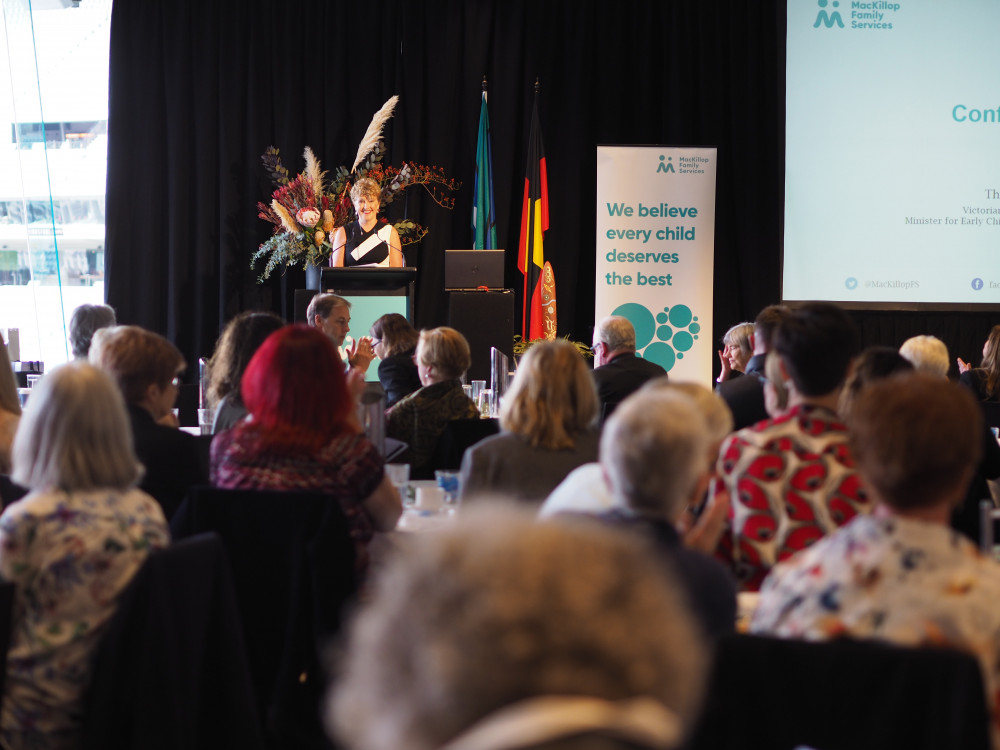 "You can have all the policies and procedures in the world, but if you don't have the right culture, you will fail." – Commissioner Robert Fitzgerald
In December 2017, the Royal Commission into Institutional Responses to Child Sexual Abuse released its final report, showcasing for the first time the true extent of child sexual abuse in Australia. Three months on, Mackillop Family Services brought the sector together at its Child Safe Organisations conference on March 21 2018 to explore child safe practice and prevention and ensure the ongoing safety of children and young people in Australia.
"Today we prepare for the possible: that every child is safe in every institution", said Dr Robyn Miller, Chief Executive Officer as she addressed the 400-strong crowd, representing organisations from across the country.
Her sentiments were echoed by Victorian Minister for Children and Families, Hon Jenny Mikakos MP in her reflection on the abuse uncovered by the Royal Commission.
"We must resolve now that this will never happen again," Minister Mikakos said, as she acknowledged the leadership of Mackillop Family Services for having the vision to lead this very important discussion.
The day began with a Welcome to Country, acknowledging the Traditional Owners of the land on which the conference was held and reminding all delegates of the critical importance of cultural safety in our work with Aboriginal children and young people.
Aunty Diane Kerr, a respected Elder of the Wurundjeri Tribe, spoke of the strength and pride connection to culture provides Aboriginal children. "It is our passage of life," she said. This was demonstrated later in the day by Professor Muriel Bamblett, Victorian Aboriginal Child Care Agency CEO, who shared a story of a vulnerable child in care and the journey she undertook to become a strong, young Aboriginal woman.
"Cultural resilience and relationships are essential for keeping children safe," Muriel said.
Keynote speaker, Commissioner Robert Fitzgerald – one of six Commissioners leading the Royal Commission into Institutional Responses to Child Sexual Abuse – recognised the resilience of Aboriginal and Torres Strait Islander Australians throughout the Royal Commission. "Their history", he shared, "carries a strong message for the policies we must enact in the best interests of children.
"The stolen generation is a great reminder; a cause for each of us to pause in relation to public policy. Those policies…play out today in the children of their ancestors. And it's an example of where the policies we make today play out for generations to come. And everyone in this room has an obligation not only to consider our policies and their effects tomorrow, or next year, or ten years from now. But what will be the effect of policies in generations to come?"
In his keynote address, Commissioner Fitzgerald shared stories from the Royal Commission that showed consistent failures in governance, leadership and culture – three elements that are critical to creating and sustaining child safe environments.
"If in 10 years' time, you have every policy and procedure in place, and you meet every mandatory standard, but you do not have a genuine culture of safety – then you will fail. What we have seen over the decades is that bad culture breeds bad conduct," Commissioner Fitzgerald said.
"Listening to children will give us the answer," said Commissioner Fitzgerald as he challenged all organisations to look at their organisation through the eyes of those who encounter their services and ask themselves 'what do I see, hear and feel that tells me this is a child safe organisation?'
Building upon the critical importance of listening to children, Professor Anne Graham delivered her keynote address on how children respond to grief and loss, and how adults need to respond.
Professor Anne Graham is a Professor of Childhood Studies at Southern Cross University and the author of Seasons for Change, an international grief and loss education program for children.
Anne echoed the need for children to have their status, voice and agency taken into consideration in all decisions organisations make that impact on their lives.
Grief, change and loss are significant factors for children and young people supported by child welfare organisations, particularly those in out of home care. Anne discussed the importance of trusting relationships for young people to heal and navigate a journey of change. She explained that grief, loss, behaviour and trauma are intrinsically linked, and to support children to heal, we must recognise children as both vulnerable and capable. Tellingly, she observed that, "you cannot understand the grief and trauma of children and young people, unless you understand children and young people."
The understanding of trauma was a strong theme across all presentations at the MacKillop Family Services conference.
Keynote speaker and international trauma expert Dr Sandra Bloom discussed the importance of being trauma-informed in all services delivered to children and families. Sandra explained how a deep understanding of trauma – and a consistent focus on this across the organisation – is critical to creating child safe cultures and sustained cultural change.
Sandra is the co-founder of the Sanctuary Model, a cultural and trauma-informed framework that recognises that trauma has an impact not only on the people who have experienced it, but also on the staff who work with them and on organisations as a whole.
The conference concluded with two panel discussions, hosting experts across research, advocacy, service provision, compliance and government. The panels sparked dynamic conversation across the two topics: Helping families recover from trauma: Lessons from evidence-based, culturally safe practice; and Child sexual abuse prevention and response.
Practically demonstrating how a deep understanding of trauma produces positive outcomes for young people, Superintendent Richard Watkins of the Victoria Police Eastern Division shared his experience of establishing the 'Community around the child' partnership between residential care workers and the Police.
"Child Protection would say to us 'Why do you treat our young people so poorly' and we would say to them 'why do your young people keep committing crimes?'
"To start addressing the cause of the behaviour, and not the symptom, we had to understand the trauma," Superintendent Richard Watkins said. This approach has resulted in significant decreases of incidents of missing young people and of criminal acts conducted by young people in care in the eastern region of Melbourne.
Key researchers on the panels, Professor Cathy Humphries, Dr Gemma McKibbin and Professor Helen Skouteris, shared evidence-based approaches to prevention and supporting families through trauma, all demonstrating one of the strong themes of the day to listen to the voice of the child.
Read about a MacKillop Family Services and Melbourne University Research project to prevent the sexual exploitation of young people in residential care.
Read about the Sanctuary Model, a cultural and trauma-informed framework for organisations working with clients who have experienced trauma.
Messages to: Anna Masci, Mackillop Family Services