Archived News Item
LOOKING TO THE FUTURE – MERCY ASSOCIATES
April 30, 2015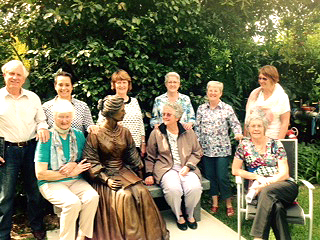 The MERCY ASSOCIATES WORKING PARTY felt the warmth of Catherine McAuley's presence as they gathered at the Mercy Institute Centre at Stanmore, Sydney on March 28, 29 to consider the report of the Consultation Process regarding the Framework and Future Options for ISMAPNG Mercy Associate groups.
Present were the members of the Working Group: Beryl Amadee rsm, Rita Hayes rsm, Mary-Ann Lennon rsm, Margaret McDonald, Rosa Speranza, Les Stewart, Margaret Endicott rsm (facilitator), Sally Bradley rsm (Leadership Team) and Carmel Ross, the consultant appointed by the Institute Leadership Team to conduct the Consultation Process. Two other members, Terry Power and Christine Convery were unable to attend.
The Mercy Associates Working Group was established in 2012 by the Institute Leadership Team for the purpose of gathering information regarding present Mercy Associate groups and activities in the Institute and making initial suggestions regarding future steps for such groups.
Carmel Ross was appointed and commenced a consultation regarding Mercy Associates in 2013. This was done by circulating a questionnaire to all existing Associate groups and Sisters throughout Australia. At present plans for Associates in PNG are at the discussion stage. Following her systematic research and collection of data, Carmel presented the completed Consultation Document and Recommendations to the Institute Leadership Team in the second half of 2014. The document and the Leadership Team response were then sent to the Working Party for further discussion and review.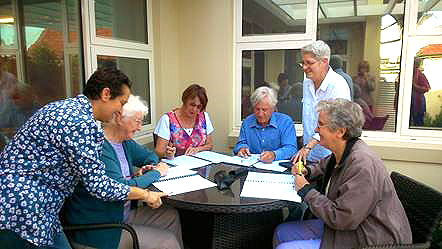 Over two days, the Working Party examined the response from the Leadership Team and then discussed in detail each of the thirty-eight recommendations as they relate to the future for Mercy Associates within the structure of the Institute.
This process generated much fruitful discussion and clarification of the matters contained in the Report. The recommendations covered the functioning of present and future Associate groups and a proposal for an implementation group that will take forward the proposals in the document. A final draft of the Report and Recommendations has been completed and is ready to be presented to the Institute Leadership Team. This will be done by two nominated representatives of the Working Party – Margaret McDonald from Ballarat and Rosa Speranza from Perth.
At the conclusion of the two days together, the group gathered for a concluding rite around Catherine's statue in the gardens of the Institute Centre where we reflected, and sang our joyful thanks for all that has been achieved to date and prayed for the successful development of Mercy Associates into the future.
Messages to: Sally Bradley rsm