Archived News Item
Looking At Mercy Associates
December 12, 2013
Associates of the Sisters of Mercy are women and men inspired by the life and work of Catherine McAuley who seek to share in an explicit way the mission of God's mercy and can be found in many of the countries where the Sisters of Mercy are present. In order to begin to explore the concept of Mercy Associates in the context of a new Institute, there was an initial gathering of ten Sisters on 24-25 November, 2012 at the Institute Office in Sydney and it was decided to form a Working Party to take this forward in 2013 and work toward a common Institute practice. Christine Convery reports on progress to date.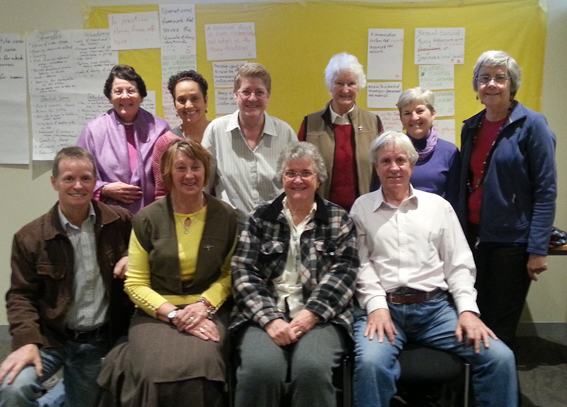 This year has seen much work done by the Mercy Associates Working Party. We feel very excited by the draft documents that have been produced over the course of three meetings of two days each. Our first meeting was in Cairns in May and our last two meetings were held in Melbourne in June and September.
The Working Party is comprised of six Mercy Associates – Terry Power, Margaret McDonald, Rosa Speranza, Leslie Stewart, Christine Convery and Del Rowan; three Sisters of Mercy – Beryl Amedee, Rita Hayes and Mary-Ann Lennon; and one Institute Leadership Representative – Sally Bradley. Our Working Party facilitator is Margaret Endicott rsm.
Last month the draft documents were presented to the Institute Leadership Team (ILT), along with some recommendations that will see the draft documents opened up for consultation early in 2014. There are three parts to the documents: An Introduction; The Document itself; and an Appendix of diagrams. The main sections of the Document include: The ISMAPNG Mercy Associates Draft Vision Statement; Our Vision in Practice; The Way we Operate; and Membership Criteria.
In the very first instance we took our inspiration and deliberations from the Chapter Statement of ISMAPNG, written in 2011. (Read the Chapter Statement HERE) We found so much of Catherine in this, and were very grateful for this starting point. The Working Party is open to the challenges inherent in the new structure of the Sisters of Mercy of Australia and Papua New Guinea. Throughout ISMAPNG, there are women and men, inspired by the story of Catherine McAuley, making their response to her charism. This charism of Mercy is a dynamic force that impels us to action and inspires Mercy men and women to be that Merciful Love of God wherever they live and work.
The consultation process should begin in January 2014 and be concluded by the end of March 2014. Possible names for this organisation/group/network, currently known as Mercy Associates, have been put forward and will also form part of the consultation. The consultation will be open to all Sisters of Mercy, Mercy Associates and any others interested in viewing the documents and giving their feedback.
We are looking forward with great excitement and enthusiasm to the consultation process and implementation period. The Working Party sees itself continuing throughout this period of up to one year from now. Sincere thanks go to the ILT for their continued support and visionary mandate that has been given to the Mercy Associate Working Party. We look forward to continuing this work with the spirit of Catherine McAuley accompanying us in all our deliberations and celebrations.
Christine Convery on behalf of the Mercy Associates Working Party.

Messages to: Christine Convery
Photo: Mercy Associates Working Party
Back L-R: Del Rowan, Rosa Speranza, Mary Anne Lennon rsm, Rita Hayes rsm, Sally Bradley rsm, Marg Endicott rsm
Front L-R: Terry Power, Margaret McDonald, Beryl Amadee rsm, Les Stewart.