Archived News Item
LONG SERVICE RECOGNISED
October 19, 2015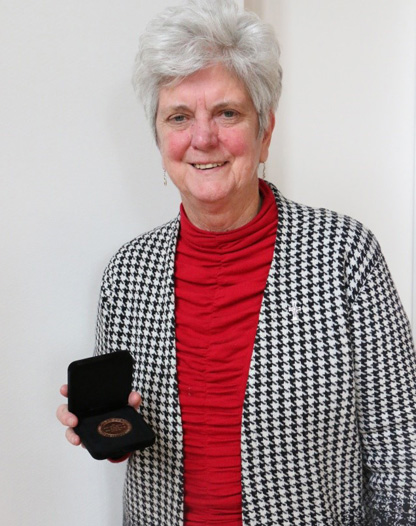 Recently, Therese Power rsm received the Sir James Darling Medallist Award, named after the founder of the Australian College of Education. This honour is awarded to an eminent Victorian Educator, who has made an outstanding and sustained contribution to Victorian education.The Citation that accompanied her Award spoke of Therese's outstanding contribution to Education, not only as a Teacher and Principal for many years in Mercy Education, but also as the first woman Director of a Catholic Education Office during her appointment at Ballarat. Her involvement in several State Education projects and policy developments was also highlighted.
Therese received her Award on August 27 and offered the following response to those present:
Congratulations to those who received fellowships and distinguished service awards. This is indeed a night of celebration!
When Ian phoned me to say that I had been awarded the James Darling Medal I was really taken aback. I had been here on previous occasions when the medal had been awarded and I always marvelled at what the recipients had achieved. When I checked the criteria for nomination however, I was able to accept that, without being an outstanding educator, I have had a sustained educational journey.
Having finished my term as Director of CEO and Leader of the Sisters of Mercy, I utilized the skills I had developed in a variety of different circumstances. In the early 2000s I qualified as a facilitator and as a coach. This allowed me to work with school staffs and principals in a variety of professional development activities. So I did not lose touch with the school scene. I also inquired about a possible job at the Multicultural Centre in Ballarat. The director suggested I mentor two Sudanese families that had just moved in to the area. When I moved to Melbourne about 18 months later, it was suggested that someone else would support these families but their response was, "No we keep sister". So I am still visiting them regularly, assisting the mother in activities like enrolling her son at St Pat's College.
So what other skills did I bring to subsequent ministries? As a volunteer at the Melbourne museum I am the organiser of the groups of children that participate in the holiday activities. I teach English to four groups of mothers/grandmothers at schools in the western suburbs – a very individualised learning programme. At one group they are also learning to knit so there are lots of laughs with dropped stitches!Negotiating skills developed during my previous roles have stood by me when I accompany women to appear at Immigration Tribunals, pleading for their permanent residency in Australia. Two women in our Refugee House were granted Permanent Residency. Another African woman, who had been labour trafficked to Australia, is required to visit the Immigration Department every two months to plead her case for Permanent Residency. She, too, is in our Parish Refugee House now where I am Coordinator temporarily. This new stage in my ministry of 'education' has been very meaningful.
Messages to: Therese Power rsm