Archived News Item
Local formation animators gather in Sydney
October 19, 2009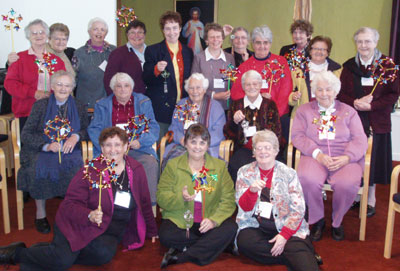 On October 10, a group of 21 Mercy Sisters from Gunnedah, North Sydney, Singleton, Rockhampton and Wilcannia-Forbes, gathered at Our Lady of Fatima Parish Centre, Caringbah, NSW, for a Local Formation Animators (LFA) gathering. Bernadette Franks RSM (Wilcannia-Forbes) reports.
Energy was high despite a technological malfunction during the first session. Out of potential chaos was born a powerful level of engagement and very fruitful sharing. All those present showed great trust towards each other and were attentive to the wisdom of the "other".
The programme was presented by Val O'Hara RSM (Singleton), Jennifer Bailey RSM (North Sydney) and Bernadette Franks RSM (Wilcannia-Forbes).
Before returning to their various homes, they enjoyed lunch together in a real spirit of Mercy.
From: Bernadette Franks RSM (Wilcannia-Forbes)