Archived News Item
Living the Spirit of Vatican II
December 15, 2014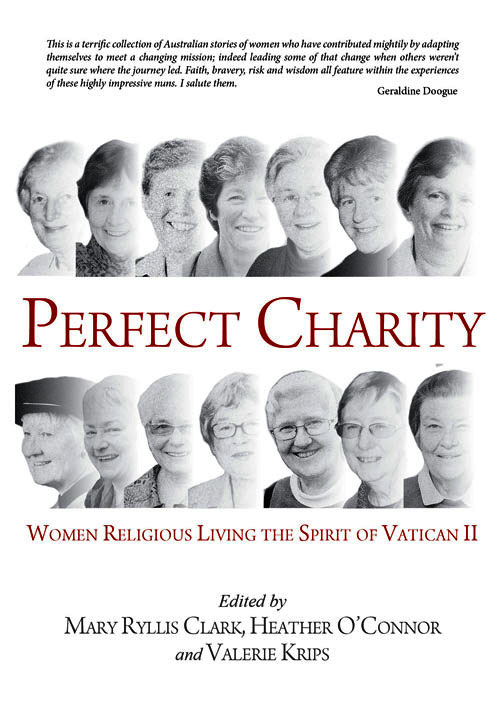 Perfect Charity – Women Religious Living the Spirit of Vatican II is a new book based on a series of interviews that document the impact of the Second Vatican Council on the lives of religious.
Published on October 11, the anniversary of the commencement of the Council in 1962, fourteen religious sisters tell of the dramatic changes they experienced as the result of the Second Vatican Council's Instruction on the Renewal of Religious Life, Perfectae Caritas. Two of the Sisters are members of the Institute of Sisters of Mercy of Australia and Papua New Guinea – Veronica Lawson rsm and Patricia Powell rsm.
Following the Council, the women recount changes to every aspect of their lives – from their formation as religious to modifications of the habit and their interaction with the laity. This is a story of radical renewal, as they responded to the challenges of rediscovering the vision of their founders and 'the call of the poor', as they moved from monasticism to working for social justice; from school based ministry to new ways of living their vocation in various areas: canon law, feminist theology and biblical scholarship, and advocacy on behalf of the marginalised and asylum seekers. The changes also involved new models of leadership and the challenges of declining numbers and aging sisters.
The 14 women featured in the book are Brigid Arthur CSB, Joanna Bagot OSB, Deirdre Browne IBVM, Maria Casey RSJ, Clare Condon SGS, Maryanne Confoy RSC, Ann Derwin RSJ, Carol Hogan SSS, Bernadette Keating PVBM, Veronica Lawson RSM, Patricia Powell RSM, Libby Rogerson IBVM, Stancea Vichie MSS and Anna Warlow SGS.
This is a timely book of faithful service, radical change and prayerful response to the challenges of the times in church and society. Journalist and broadcaster Geraldine Doogue has described Perfect Charity as "a terrific collection of Australian stories of women who have contributed mightily by adapting themselves to meet a changing mission; indeed leading some of that change when others weren't quite sure where the journey led. "Faith, bravery, risk and wisdom all feature within the experiences of these highly impressive nuns. I salute them," she said.
Messages to: Veronica Lawson rsm
Patricia Powell rsm
'Perfect Charity' is edited by Mary Ryllis Clark, Heather O'Connor and Valerie Krips and is available through Morning Star Publishing for $35.50 plus postage.
Email: sales@morningstarpublishing.net.au
Website: Morning Star Publishing
Read an interview with one of the editors HERE