Archived News Item
Listen to the women, urges Melbourne Mercy Sister
September 10, 2009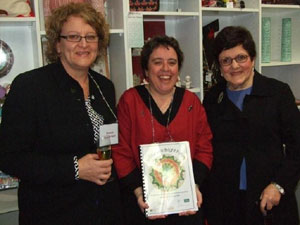 Melbourne Sister of Mercy, Angela Reed, has recently returned from Cebu in the Philippines where she conducted research involving prostituted women in the city's red light district. Her report, "An Exploration of Human Trafficking for Sexual Exploitation, Cebu Philippines", was launched by the Honourable Joan Kirner, former Victorian Premier, at the Good Shepherd Centre for Justice and Fair Trade on September 9. Rosie Hoban reports.
Women who have been trafficked into prostitution are experts in their field and should be considered a vital source of information and wisdom when developing programs to prevent the trafficking of humans or when developing rehabilitation programs for survivors of human trafficking. This was one of the key findings of research by Angela Reed.
Angela spent a month in Cebu, in the Philippines, where she lived at the Good Shepherd Welcome House, a drop in centre for young women working as prostitutes in the red light district. She conducted formal and informal interviews with the women, visited bars and spent time in the red light district listening to their stories and learning how they had come to work in Cebu. Angela also invited the women to design and draw mandalas to help them express their experiences.
Cebu is a large city in this country of 89.7 million, which has been identified as both a destination and origin country for human trafficking. A report released by the US Department of State in 2008 found that international trafficking of women for sexual purposes still remains a serious problem in the Philippines, and most of those trafficked are females aged between 13 and 30 years of age.
An emerging problem is the conflict on the Filipino island of Mindanao which has displaced thousands of people. Angela's report contains interviews with some young refugee women on their way from Mindanao to work in the Middle East as cheap labour. In these cases a fee is paid to people who recruit workers, usually young women, who are then sent to the Middle East and are often left with little money.
"The major findings of this report point to some emerging themes such as poverty, education, domestic violence, sexual assault, drugs and alcohol. Sadly, there are so many common stories that led young women into being trafficked. Almost always, it is the need to provide money for personal survival or to help their family survive," Angela said.
"What also became clear is the knowledge these women gained during their journey to this point. They understand that human trafficking is a lucrative business and that they were being used and abused in order for other more powerful figures to make money."
Angela implored policy makers and anti-trafficking advocates to listen to the voices of trafficked people to gain a greater understanding of the growing global business.
"One can really only grasp the issue of human trafficking by listening to those most affected by the experience," she said.
Some of the women at the Good Shepherd Welcome House are still working as prostitutes and come to the centre for rest and support. Others are trying to begin a new life and are working at the centre on the Justice Nametags Project (each nametag includes and explanation of the Handmade Justice project. Good Shepherd Trading Circle stores around Australia and in New Zealand stock the nametags which cost $3.00 or $2.50 for orders over 50).
They are earning an income through the project and are able to leave prostitution. Some plan to return home to their families, others want to return to school and gain an education with the hope of finding a job.
The report features many first-hand accounts from women who have been trafficked for domestic or sex work. One woman who was recruited to work in the Middle East had her passport held by the recruiting agency. She was arrested, put in jail and left without food and clothes. She was eventually released and returned to the Philippines but her story was a litany of abuse and betrayal. This woman's story was similar to others interviewed for the research. Many expressed their trauma after being physically and/or sexually abused once they began work. For some this was the first time they had encountered such treatment, for others it was a continuation of the treatment they had endured at home.
"A lot of Filipino girls in Damascus are being treated badly. They are given no food and left outside in cold conditions. I spent a lot of my time helping girls out of bad situations. Often a girl would run from her employer as he had raped her, only to fall into another bad situation. I feel sorry for the girls," one of the women said during an interview.
"I am very traumatized by my experience in Damascus. These scams are happening on a large scale, but Filipinos don't want to talk about it…. No one wants to work in Damascus anymore because of the way they are treated so bad. However, I know that I will need to go abroad again in order to survive and earn money."
The report highlights the poverty and abuse that often drives the young girls to leave home in search of a job either in big cities such as Cebu or overseas. Their lack of education and youth means they often fall prey to experienced recruiters who promise them money for working in a bar. Desperation then leads them to accept the job they have been tricked into, in many cases – a brothel.
Former Victorian Premier Joan Kirner said she too was saddened by the lives the girls were forced to lead because of poverty. Most suffered terrible pain and injustices in order to protect or provide for their families.
The report found family obligations was another dominant theme amongst the young women who participated in the research. "Many felt at a young age that they needed to contribute financially to the family; others were trained very early to take responsibility for the care of their younger siblings, and many felt the need to repay their parents and send money home for other members of the family. For some, it was a family expectation that they contribute financially at a young age," the report said.
Many of the research participants were young mothers. Most pregnancies were unplanned and their financial crisis worsened as a result of their pregnancy and in most cases there was no financial support from the baby's father. Some of the women had adopted out their babies and suffered extreme grief and loss as a result.
The report made many recommendations, including that:
Further research into the experiences of trafficked people be undertaken across the Asia Pacific region.
Good Shepherd in the Philippines and in Australia share internationally their joint work on the name tag project, to provide a model of linking women who have been trafficked and micro finance.
Trafficked women's participation in research and counter trafficking programs be given prime importance.
That in regards to human trafficking, particular attention be given to the Millennium Development Goals which seek to address poverty, education and empowerment for women.
Some of the women who participated in the research said they knew about human trafficking, but never really understood its implications. They suggested that education programs in rural areas, directed specifically to parents, would help make families more aware of the sinister nature of human trafficking.
"One woman put it this simply, 'They pick up on us because we have a low education, we are attractive and innocent and come from the provinces'," Angela said.
"The thing which has stuck with me after my time in Cebu, is the resilience of these young women. They believe in a future and they have hope, despite the horrific experiences some have had. They still have the capacity to see good in others and to have hope for a better life."
Angela hopes her report will become the first stage in a more comprehensive trafficking prevention project.
Angela's research trip to Cebu was funded by the St James Ethics Centre through a Vincent Fairfax Fellowship.
Stop Press
Angela Reed RSM, Tonette Go RGS (who runs the Welcome House in Cebu) and two of the women who participated in Angela's research project, are exploring the possibility of presenting at the Asia Pacific NGO Forum on Beijing+15 on October 22-24 in Manila.
From: Rosie Hoban, The Good Shepherd Social Justice Network