Archived News Item
LIFE OUT WEST
September 10, 2015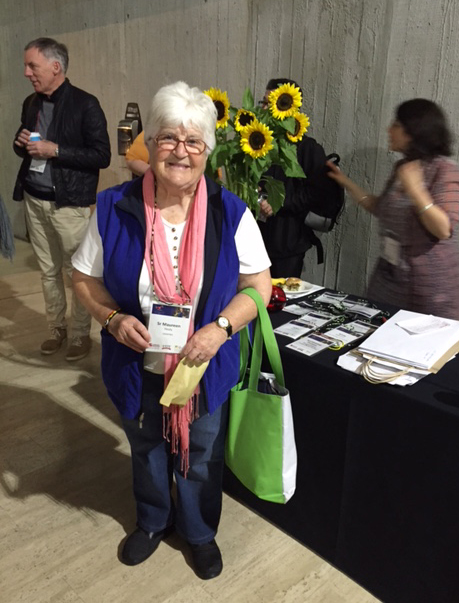 I am a member of the Institute of the Sisters of Mercy of Australia and Papua New Guinea. The question I ask myself now is: how did I get to be here at this stage in my life? This is my story.
During my earlier religious life there was that momentous experience of the Second Vatican Council. This heralded a great change in the life of the Catholic Church. It was both an end and a new beginning. It was not, however, without the painful pangs of new birth. In the words of Sandra Schneiders, 'suffering has wrought a kind of maturity in those who have stayed that is neither self-satisfying, on the one hand, nor apologetic on the other. We do not claim to know what is going to happen in the immediate or long term future in the world, in the church, or in religious life. But we do know in whom we have placed our trust'. 1
Good Pope John XXIII heard the call of the Spirit and invited us to examine our life experience and leave behind what was not life-giving. Some sisters whom we had loved dearly chose to follow a call beyond a cloister while the religious life we once knew was no longer viable as we moved to the twenty-first century. We were called to re-think and re-image our way of life and being. What we had known so well was no longer life-giving for many so we let go and took the risk to walk on water.
We were blessed to receive much assistance from our leaders as we depthed our charism of mercy and sought to return to the vision of Catherine McAuley, our foundress. The Second Vatican Council document on religious life, Perfectae Caritatis, challenged us to reflect that the manner of living, praying and working should be suitably adapted to the physical and psychological condition of today's religious life, and also, to the extent required by the nature of its community, to the needs of the ministry, the requirements of a given culture, and social and economic circumstances, especially in missionary territories. We heard again the call to mercy expressed in our Mercy Constitutions:
To follow Christ, is to let ourselves be led into the mystery of God's
steadfast, merciful love. It is to enter with all who are one in Christ
Jesus. Into the revelation as the God of all mercies.2
We were blessed to receive from many sisters a deep appreciation of the Scriptures as we heard anew the 'gospel demands for our world'. How did I respond to the needs of our new vision? I felt that I needed new tools, new ways of responding. I asked a Uniting Church pastor, 'What will I do?' He responded and said, 'Go and sit down'. This was a new way of interpreting the gospel message, 'Come and see'. We were no longer deciding for others. We listened and sought to see through the eyes of the other. We needed feet on the ground to move forward, called by the Spirit alive in our world.
When the sisters from the former Wilcannia-Forbes congregation left Wilcannia, one sister said to me 'I wish you were coming here'. That thought stayed in my heart. While I was in Broken Hill, I spoke to Vinnies and informed them I would like to go to Wilcannia to meet with some women from there.
Wilcannia is a small town out west in New South Wales, with indigenous members of the Paakingtji mob and the descendants of the settlers who had come to this area in the early nineteenth century. I answered the invitation and was finally invited to work on an emergency program for Vinnies and Centacare. I worked with a financial counsellor.
I knew Sr Tricia Vagg, a Sister of Mercy living in Cobar, who was also interested and was pleased to share with me a fortnightly trip to Wilcannia. Tricia was vitally interested in teaching sewing, and also visiting members of the community. It became very obvious to me that we needed those feet on the ground. After consultation with the institute leadership it was decided we would find accommodation in Wilcannia. Tricia would remain in Cobar while I moved to Wilcannia. What seemed impossible became possible and we found accommodation in two shop fronts.
Wilcannia is on the Barrier Highway, between Broken Hill and Cobar, 200 kilometres from Broken Hill and 250 from Cobar. At some stage in the history of Wilcannia it was known as the 'Queen of the Darling'. It was an important river port as barges plied their trade up and down the river, transporting wool and sheep. It was a centre for agriculture, and sheep and cattle enterprises around the
region.
The architecture of the town is very classical. There is great potential for an active tourist development. Unfortunately this has not yet been realised. With the downturn in agricultural prices and the shortage of water, these are very difficult times for those out west. The Paakingtji people are the river people and they love
fishing. When the river rises, their spirits rise; when the river is falling, their spirits begin to fall. The Paakingtji men were wonderful workers on the properties and were very able stockmen.
Wilcannia has been in the news for all the wrong reasons, often
sensationalised, which in turn has had a significantly detrimental effect upon the people. There are very few work opportunities in the town itself, and it would appear to me this lack brings with it no sense of purpose. Yet many people who spend some time here are impressed and love the town and its people. My own experience has been very positive and I feel very much at home. The River Darling winds its way through the town, mingling with the River Murray at
Wentworth, and finally the Murray enters the sea in South Australia.
The town has been well served by the presence of the religious sisters who have spent time here and taught at St Theresia's School: the Sisters of Compassion, the Daughters of Our Lady of the Sacred Heart, and finally the Sisters of Mercy. Mother Paul Fielding, a Sister of Mercy from Yass, came with five companions in 1890. They moved into a sandstone building that was erected as their convent in 1894. But the convent closed in 1920, when the sisters moved away. Nevertheless, the foundation Mercy Sisters are buried with the people they loved in the Wilcannia cemetery.
The Beginning
Initially, when Tricia and I started our apostolate in Wilcannia, we had a little stall, but it became too demanding for us, as we were carting the goods around town. We were asked frequently when the shop would open. There was a shortage of any kind of building where we could finally settle. We drove around town and found two shop fronts owned by Bill and Chris Elliot. Originally we came from two different directions and stayed in the motel. This was not
sustainable in the long term. One shop front became my home and the other the shop that the people so desired. Tricia stayed over two nights a fortnight as we organised our shop. The Institute paid rent for my living quarters, and Vinnies generously paid for the shop area. This became known as 'Mercy Place'.
The next question we faced concerned where we would get the goods for our stall. I think the Holy Spirit must have a very good warehouse for second-hand goods. We were, and still are inundated, with very good quality clothes, provided by very generous donors from many different sources. We hope that at some stage we will gradually be able to pass the shop over to be managed by the people of the town. I believe that is part of the sitting down and waiting process.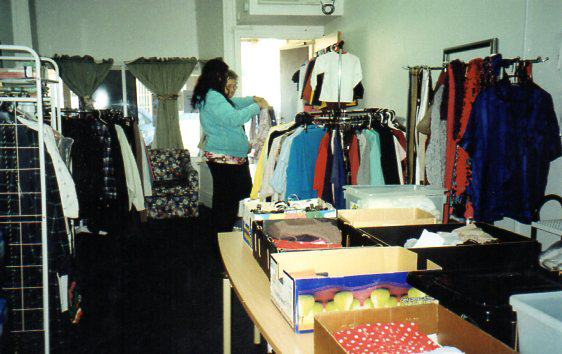 Sr Tricia is the buyer as she has regular appointments in Dubbo. The money generated from the sale of donated goods is used to purchase items that are not available in Wilcannia. All money is ploughed back into the shop. In order to preserve dignity and respect, we follow the concept of offering 'a hand up, not a hand out'. The shop is also a wonderful place where people can gather to
socialise. They are very astute shoppers and know a good bargain when they see one.
What are the 'signs of hope' that we see around us? We have Miss Barrett's Coffee Shop, the Courthouse Café, the post office and Mercy Place. We also have a chemist. George, who has opened the pharmacy, arrived from Egypt. He is a Coptic Christian and a great evangeliser. He invites newcomers to pray with us. At Centacare a very useful and industrious program has been organised by the
women. They make curtains for their houses and learn how to cook nutritious meals for their families. I am just realising that what occurs in the stillness becomes reality when we least expect it and often we don't recognise it. I am reminded so often of the fact that Mother Catherine McAuley, foundress of the Sisters of Mercy, and her companions 'trusted totally in God's providence'. This is a teaching and a learning of the service that is required of us.
As I reflect upon the Constitutions of the Sisters of Mercy I am so grateful for the gifts that our sisters share right across the globe and also for our pilgrim women who make present the kin-dom. Wherever there are Sisters of Mercy we unite with each other for all those in need. A young woman came to ask if I would teach her to read. She said she felt a fool when she went to the doctor and someone else had to read all the directions. We now have a one-on-one reading program and the teaching personnel are generous women in the community. We were guided by Sr Luke (Kenna) from Ballarat.
There is one delightful memory I would like to share with you. I was on my way home from Broken Hill, about 100 kilometres out, when I got a puncture. I began to empty the boot because I thought someone would come. A truck flew past, then a panel van stopped. Out jumped three indigenous young men (with purple hair) who said to me, 'Got a flat tyre, aunty?' In five minutes they had mended the puncture, kissed me goodbye and raced off to Wilcannia. I was enlivened by that experience and prayed that I will always be reminded of the kindness of others.
A place in community
What is my place in this community, which requires a deep understanding from those who will critique and not celebrate? In the words of Sandra Schneiders, ' (The word) Religious denotes a way of being, not a role or function in an institute. Religious life is a free response to a personal and compelling vocation to a particular kind of relationship with Jesus Christ namely that expressed in
consecrated celibacy, and it is a particular kind of participation in his mission, namely full-time prophetic ministry'.3
Who else is part of this ministry? There is no regular place to worship on Sunday, so those who wish to pray together come to the Catholic church, where we break open the word and celebrate in thanksgiving together. We then go to the Courthouse Café for a coffee. I am often asked, 'Do you live by yourself?' I don't. I live with every other person who walks the streets of Wilcannia. I have a strong feeling of living in a place when something is slowly emerging, as time moves very slowly here. There is also sadness because of the people's lack of appreciation of themselves. There is much grief and pain and loss. I live in the main street so I step out onto the street itself.
Our community is a changing picture. Last year we had a strong active group; however, this year the numbers are much smaller, but we are ready to support each other and I am encouraged when we chat together and pray for a time of change. On occasion people passing through join with us in prayer. The members of this community are all on the way to Emmaus together. We will find Jesus in our own time. We pray with our Pope Francis that the Spirit of joy will return to our world, that we will recognise through the eyes of mercy that our children will benefit from the care and the concern of others, and that our elders will be honoured. Pope Francis continues to remind us of the poor out on the edges. He reminds us that we must always be aware of those who hunger and
thirst for justice.
In addition to the needs of our world, as Sisters of Mercy of the Institute, we celebrate the graced movement of the reconfiguring process. The Sisters of Mercy across the nation followed a reflective and deeply spiritual program to formally search for the best way to nurture our unity and to strengthen our capacity for engaging in God's mission of mercy. This is another evolving message for our time and we gradually unpack it together.
This deeply spiritual program has also had its painful moments, however. For me the moment came when I realised all the walls would come tumbling down and the sisters of the Ballarat Congregation would no longer be an entity standing alone. I had to decide whether I would move to where my mission was in New South Wales or return to Ballarat. However if we want a work of Mercy to proceed, there will be a death and a resurrection. I had lived for over fifty years in the Ballarat congregation. I had been schooled there, taught by so many of the sisters there who had become my dear friends and encouraged me to see life through the eyes of mercy. This has been a re-affirmation of the call I heard so long ago.
In the words of the English poet, Christopher Logue, we remind ourselves that we must slowly let the message become part of our being:
Come to the edge
We might fall
It's too high
COME TO THE EDGE
And they came
And he pushed
And they flew … 4
1. Sandra Schneiders, 'The Ongoing Challenge of Renewal in Religious Life', in Religious Life Evolving: Faithful and Free, CORI (Conference of Religious of Ireland) Spring Conference, April 2014 (Dublin: CORI, 2014), 2. Constitutions of the Sisters of Mercy, revised (Ballarat, VIC: Institute of the Sisters of Mercy, 2013), #1.01. 3. Schneiders, 'Ongoing Challenge', 4. Christopher Logue, 'Come to the Edge' (1926), in New Numbers (London: Jonathan Cape,1959), pp. 65–6.
Messages to: Maureen Healy rsm
First published: The Australasian Catholic Record April 2015