Archived News Item
Life of Catherine McAuley – a new approach
February 28, 2014
Catherine McAuley: A Woman Born To Make A Difference
Fraynework Multimedia was recently engaged to create a short DVD on the life of Catherine McAuley. The production was developed for the Institute of Sisters of Mercy of Australia and Papua New Guinea as a resource for the Institute Mercy Ethos Office.
Sisters of Mercy all around the world draw inspiration from Catherine McAuley, who founded the congregation in Ireland in 1831 and working on the DVD was a fantastic opportunity for Fraynework, as a Mercy ministry, to learn more about her extraordinary contribution and compassion for the poor.
Because the DVD was developed primarily for use in formation programmes run by the Ethos team, it was important that the production had a vibrant and fresh approach to introducing the history of Catherine and thus the story of Mercy. The Mercy Ethos colour palette was a strong feature of incorporating a contemporary style and coupled with motion graphics served to highlight the relevance of Catherine's work, almost 200 years later, in our own ministries today.
As photography was not yet invented at the time of Catherine's early life, the biggest challenge we faced was to source imagery that would best illustrate her story including depictions of Ireland's social divide of the time, the homes in which Catherine grew up during her formative years and the people who helped to shape the woman she became.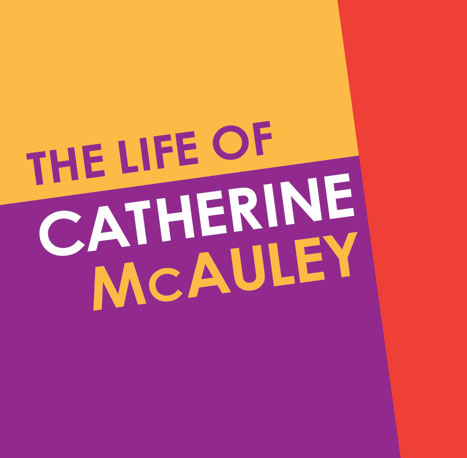 With thanks to the Congregation of the Sisters of Mercy Ireland and to Anne Reid for permission to use her voiceover extracted from the CD 'Your Ever Affectionate M.C. McAuley', the production was greatly enhanced. Anne's beautiful voice and Irish accent helps to transport the viewer back in time and feel a closeness to the incredible woman who has inspired so many of us in our life's journey. The DVD has recently been shown to several groups and received very positive affirmation.
The employees of Fraynework also enjoyed a special screening and Ethos session at Alphington in early February, followed by a delicious morning tea. It is not often that we get to see our productions at work in their intended environment so this viewing and subsequent discussion about Catherine was especially appreciated by all.
Many thanks to Carmel Crawford, Karon Donnellon rsm, Natalie Acton and all involved at the Ethos Office for their direction, input and feedback.
The Life of Catherine McAuley DVD is available from the Mercy Ethos Office and runs for approximately 7 mins.
Deb Carter – Fraynework Multimedia
Messages to: Fraynework Multimedia