Archived News Item
LFAs gather for annual conference
May 19, 2009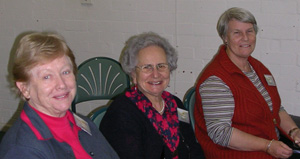 Last weekend 22 sisters from across the Institute gathered for the annual Local Formation Animators (LFAs) conference. Reporting on the gathering, Sister Karon Donnellon RSM says, "This group work throughout the year offering workshops on topics related to our vowed Mercy life. This is the sixth year and with each new area there is ever-growing enthusiasm from this wonderful group".
Kaye Evans, Institute Formation Co-ordinator, will write an extensive report which will be published later. For today, we have the introduction and welcome given by Barbara Bolster, chair of the Institute Formation Council and the homily given by Father Adrian Lyons SJ.
Father Adrian joined us for Eucharist and lunch on Sunday, and with the smallest of briefings, found in our theme strong echoes of the readings for that day. We are grateful for his presence with us.
From: Sister Karon Donnellon (Institute Leadership)