Archived News Item
Let the Message of Easter Continue
May 25, 2014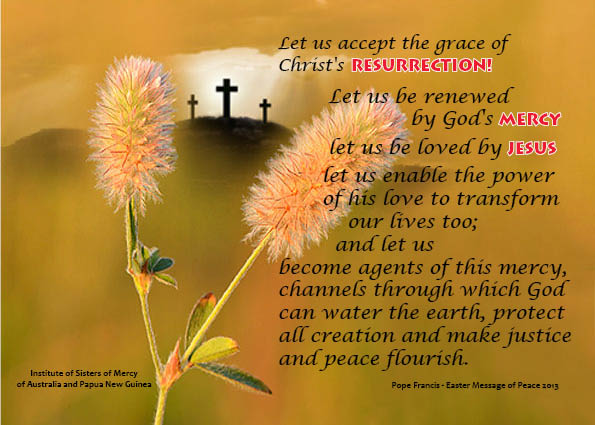 As we approach the end of the Easter season, we can allow the call of the Easter message to fade. Our awareness of the juxtaposition of death and new life can be put aside.
Much as we would prefer it to be otherwise, death and destruction are inherent in the process of creation of new life, in the process of evolution. To accept this is to accept with great sorrow the suffering of those who experience the earth going through a natural cycle which causes death and destruction as happens with a cyclone, earthquake or tsunami. Peace of heart comes as a result of our acceptance of this paradox, of the apparent "needlessness" of much of the suffering we see around us, just as we accept the apparent "needlessness" of the abundance of beauty and life that gifts us almost daily.

But acceptance of this paradox of creation, it not to be blind to that undeniable reality that we humans are ourselves the source and cause of much of the suffering that happens to ourselves and to others around us and to the earth our home. We cause suffering when we choose to ignore that our happiness lies in good relationships with God, with others and with the earth.

The season of Easter calls us to reflect deeply on the paradox of death and resurrection in the life of Jesus and in our own experience. It calls us also to reflect on our own capacity for being a source of death and a source of life. It is a call to us to be for life, for goodness, for mercy in our world. If we embrace love and compassion as our way of life we will have a influence, we will be what the Pope describes as "agents of his mercy, channels through which God can water the earth, protect all creation and make justice and peace flourish."
Let this message of Easter inform our days and our actions as we continue our mission of Mercy.
Messages to: Berneice Loch rsm