Archived News Item
Leadership Handover Livestream Information – December 12 12Noon AEDT
November 30, 2017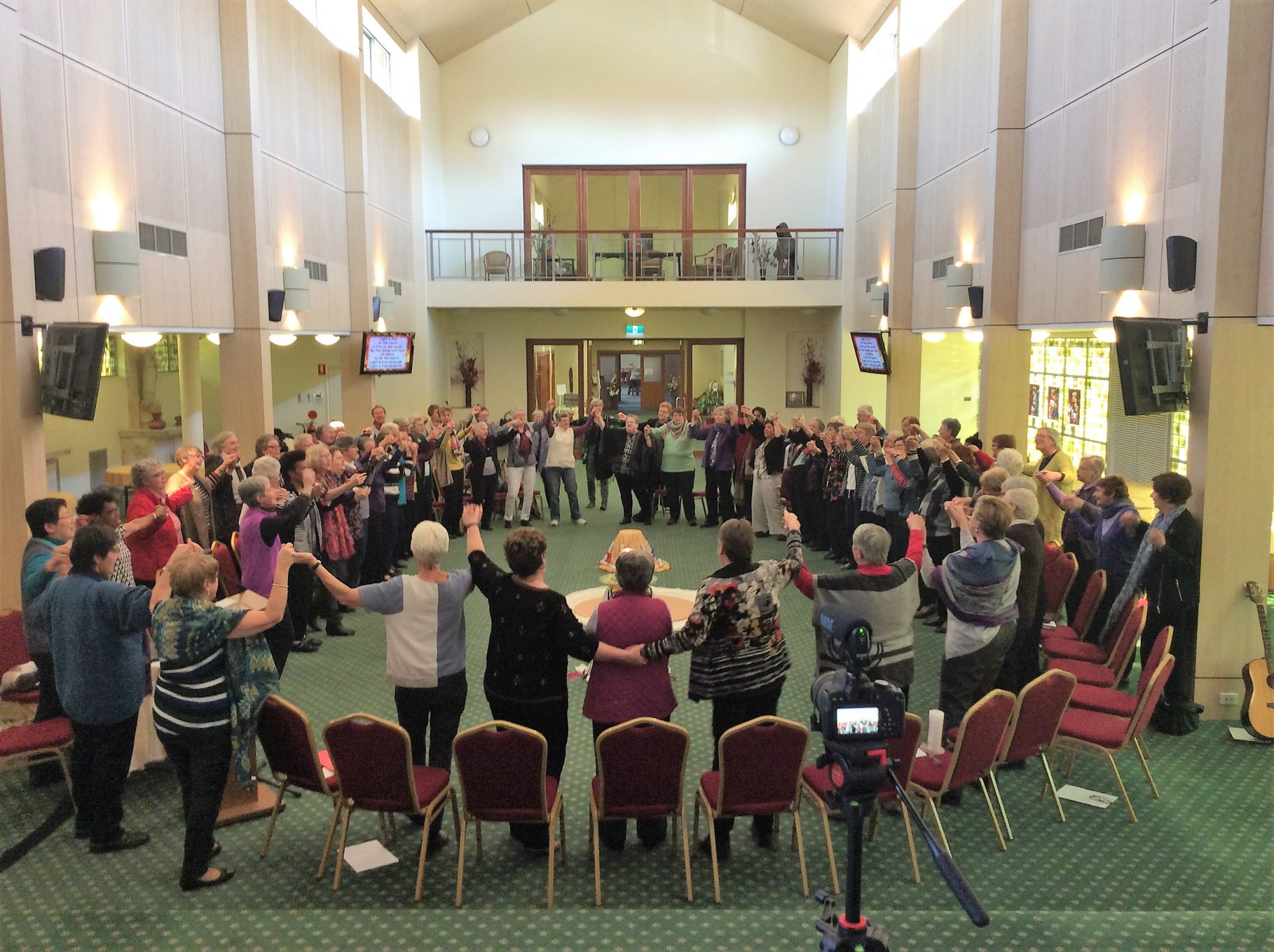 THE LIVESTEAM WILL BE BROADCAST ON THE VIDEO PLAYER BELOW (PRESS THE ARROW TO COMMENCE) AND ALSO ON THE FRONT PAGE OF THIS WEBSITE:
ORDER OF SERVICE – Click on the link below to download the Order of Service.
Foundation Day 2017 will be an extra special day for the Institute as it gives gratitude to its first leadership team and honours the five selfless women who accepted the call to lead the Institute for the next six years.  
At 12noon AEDT, a ritual of handover will be celebrated in Sydney and livestreamed on the Institute website marking the conclusion of the Institute's first Leadership Team (Berneice Loch rsm, Annette Schneider rsm, Barbara Bolster rsm, Sally Bradley rsm and Theresia Tina rsm) and the passing on of the gift and responsibility of leadership to the new team (Eveline Crotty rsm, Caroline Ryan rsm, Marie Duffy rsm, Gaye Lennon rsm and Elizabeth Moloney rsm).
The beautiful ceremony, which has been prepared by Barbara Bolster rsm, Helen Baguley rsm, Ann-Maree O'Beirne rsm and John Rochester will emphasise the model of Christ's servant leadership, in the exercise of authority as a service of love.
Acknowledging the contribution and support of the Sisters and staff of the Institute, the Institute's first Leadership Team will publicly declare that their term of office is completed.
The new team will then declare their commitment to follow the mandate of Jesus in reflective action for gospel justice:
We will look for ways of exercising our leadership that liberate and strengthen each sister and enable our Institute as a whole, to work towards the fullness of God's reign. We make this commitment in the name of God whose transforming mercy fires our hearts with a deep reverence for all creation.
Across the Institute, Sisters and people of Mercy will gather to watch and participate in the Ritual, via the livestream on the Institute website.
Foundation Day is the day on which Catherine McAuley founded the Sisters of Mercy. On this day in 1831, Catherine McAuley, Mary Ann Doyle, and Elizabeth Harley professed vows as the first Sisters of Mercy in Dublin, Ireland. It is also the sixth anniversary of the Institute of Sisters of Mercy of Australia and Papua New Guinea, for on this day in 2011, 15 congregations in Australia and Papua New Guinea reconfigured to become one Institute.