Archived News Item
LEADERSHIP COMES QUIETLY
August 7, 2015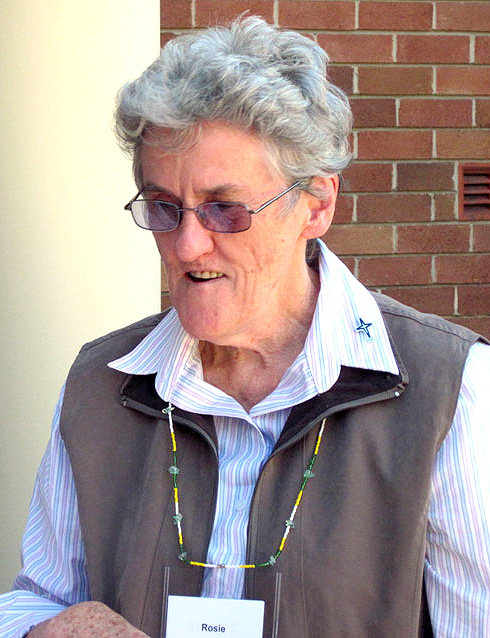 As a student at Melbourne University, I sat in a lecture room with much younger people listening to a psychologist telling us that children in larger families were slower to learn to speak and read. I thought, "How wrong you are lady!" As second from the bottom of a large family, growing up in the western district of Victoria, I can assure you I learned to think quickly, speak clearly and loudly. "Loud" was perhaps the most important in the midst of the "busy-ness" of family.
When the exam paper appeared a few months later, I saw the question from this lecturer and knew the response that was expected. I thought for a few minutes, pondering the outcome if I failed the exam, then decided I needed to speak the truth as I saw it.
What has this to do with being a Mercy sister, you may ask? The gifts and skills one learns as a child are invaluable contributors to our life long skills. Those skills of listening, thinking, speaking out and above all the commitment to truth have been a large part of my life. Going to a meeting with the intention of saying little or nothing is frequently overcome by my need to say something or ask a question. It has taken me a long time to realise that asking a question is possibly a good contribution to a group.
As a primary teacher before I joined the Sisters of Mercy I assumed, from my experience of the sisters who had taught me, that primary teaching would be my contribution to Catholic Education. Later, after my profession as a religious, I moved to country areas where I enjoyed teaching in these wonderful rural schools where the school was so much part of the local community. In those days there was no external funding and our schools were supported by the community. A country person by birth, I felt at home there.
After a couple of years teaching at junior secondary level, which I also enjoyed, I was asked if I would study science at university. This was a challenge with many unknowns about it. Being at Melbourne University in the 70's, I learned much more than science. The anti-Vietnam war protests were strong, abortion clinics were opening up, anti-apartheid movement was strong – all this was happening along with the study. I hope and prayed that I would not be seen in my habit "hanging around" and sometimes participating in what was going on. In my last year, in my "spare" time I began to attend lectures at Yarra Theological College where I was encouraged to enrol for theology. Ten years later, with much travel to and from Ballarat after teaching all day, I completed a degree. (No on-line learning in those days). I learned then that I was one of the first women to enrol at the college.
I enjoyed teaching secondary students with encouragement from our Sisters. Seeing how concerned I was about the senior classes one sister told me, "Don't worry, they are only Preps in disguise". How right she was!
As a Sister of Mercy of the former Ballarat East Congregation, I was asked to be principal at one of the schools run by the former Melbourne Sisters of Mercy. This was a new challenge which I accepted, as it was for one year. This soon turned to a request for three years and was accompanied with the agenda of amalgamating with the local Christian Brothers School. That was a task and a challenge, but one that was supported and driven by the leadership of the Mercy Sisters, the Christian Brothers and Catholic Education Ballarat. At the end of the planning and development I was appointed as the first principal.
Three years later I returned to Ballarat and was part of the Congregation Leadership Team. Leadership in a religious congregation is very different from leadership in a school. This leadership includes not only the day to day management of the business of our lives, but more importantly the leadership of people in their commitment to their God and their lives as mercy in the world. How important it is to build communities where sisters are nourished, encouraged and challenged to be Mercy to the people they meet.
Six years later, I arrived in Darwin after responding to a request for a Sister to go there. I had no idea what I would do, but had ascertained that I could get teaching or a role in Religious Education (full or part time) that would bring in sufficient funds to support some voluntary work. To me it is very important to find paid work if possible, so that those who are working in areas without any possible means of support can keep bringing Mercy to others. A chance meeting of one of our sisters with the then Director of Centacare led to my taking up a role in administration in this organisation for twelve months – "to see how it goes". At that time Centacare Darwin had about 22 workers and 13 years later, when I retired from what became CatholicCare NT, it had nearly 200 workers working from 10 offices spread throughout the Northern Territory. That type of growth puts many demands on an organisation and many challenges are faced.
What a journey that has been! Administration of such a team grew over the years and my last few years were spent as Mission Facilitator. Always I saw myself as bringing more than just my work skills to the office. As the first Director I worked with said when he engaged me, "I am sure you will bring more to the workplace than your admin skills". I hope that has been the case.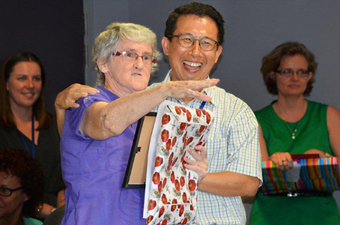 All the time I was at CatholicCare, I was a member of the Management team and believe that my contribution to the Catholic component was always strong and was always appreciated. Part of my role was to support the Director and Senior managers in their work. With a variety of religions among staff and indeed, no religion, it is always challenging to ensure that our Catholic Social Justice values and beliefs are known and influence our work. I hope that my learned skills in leadership and management assisted in some small way the development of this great organisation which brings the Face of God to those in need.
During the time in Darwin I was privileged to be part of a Reconfiguring Group and then a reference group working with the Leadership Team towards the development of the Institute of Sisters of Mercy of Australia and Papua New Guinea. What a privilege it was to be asked to be part of such a great movement for Mercy in Australia. The seeds of the new are well and truly planted, the fruit will ripen in God's good time. Now in retirement, I work one day a week at the Bishop's office developing our first formal policy and structure around Child Protection matters. All parishes have structures in place, now we need to put these on a more formal basis and ensure that all is well.
The skills I learned as a child – to listen, to speak, to ask, to negotiate life in a complex world, to speak the truth, have stood me in good stead. Life has been and will continue to be for me a life of learning. My parents and family who taught me to care for the other, to stand up for truth and to love unconditionally have brought much to our Mercy world.
Messages to: Rose Glennen rsm