Archived News Item
Large numbers attend Mercy Works PNG health event
June 20, 2008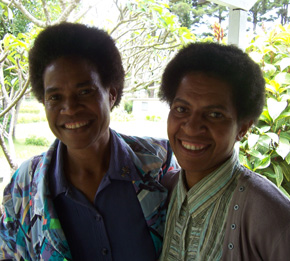 Over 1,000 people, mostly women, recently attended a health awareness-raising event organised by the Mercy Works PNG Project in Goroka, Papua New Guinea.
According to Sister Gaye Lennon, Co-ordinator of the Project, this is the second year they have held an awareness-raising event to coincide with the International Day of Action for Women's Health (May 28).
"This year we decided the focus would be on cervical cancer as it is the most prevalent cancer for women in PNG", she said.
The presenter for the day was Dr Lazuta, a PNG National who has recently offered his services as a GP at a reduced rate to people who visit the Mercy Works PNG Project drop-in and referral centre in Goroka.
Gaye said she was very pleased with the number of people who attended the event and indicated that promotion via radio prior to the day assisted in spreading the news widely among people. She noted that a few women had even come from other provinces.
She also acknowledged the support of the Goroka Diocese, especially in relation to practical help and information.
Launched in 2006, the Mercy Works PNG Project, is helping women, men and their families in Goroka and Mount Hagen to address the increasing problems of unemployment, domestic violence and HIV-AIDS.
Drop-in and referral centres have been established in Goroka and Mount Hagen which offer training programmes and support groups, and provide advocacy on behalf of individuals.
The work of the centres has become widely known resulting in requests from villages and outlying areas for similar programmes.
Mercy Works Inc. supports the local and overseas relief and development activities that are part of the vision and mission of the Institute of Sisters of Mercy of Australia.
The programmes engage in partnerships with communities to promote justice, self reliance and to support displaced people and communities who are denied access to basic resources such as education, health care and social welfare.
Photo (above): Sisters Theresia Boyek RSM and Maryanne Kolkia RSM are part of the Mercy Works PNG Project management team.
Have you seen Mercy Works' new-look magazine, The Bilum? If you haven't received a copy and would like one, contact Sister Rosie Carroll about becoming a member of Mercy Works Inc. Email: mercyworks@mercy.org.au