Archived News Item
Knitting with love at Catherine McAuley Westmead
August 25, 2010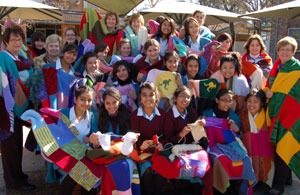 Students, staff, parents and grandparents of Catherine McAuley Westmead have spent their winter months knitting to support Wrap With Love, an initiative that helps vulnerable people throughout the world by providing warm wraps (rugs) to ward off the cold.
Nearly 1000 squares were knitted this year by members of the school community, many knitted by the student knitting club which meets every Friday during lunch time.
The 924 squares have been made into 33 wraps which will provide some much-needed warmth to needy people who are suffering from the cold and trauma.
The wraps have been sent to Wrap With Love, a non-profit organisation that since 1992 has sent over 200,000 woollen wraps made by volunteers to communities in Australia and throughout the world. These wraps have been described as preventative medicine.
This is the fifth year Catherine McAuley Westmead has been involved in Wrap With Love and the number of squares knitted continues to grow. Last year the school knitted 670 squares.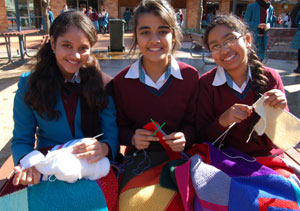 Principal of Catherine McAuley Westmead, Ms Margery Jackman, says that the school is involved in many different social justice activities, including visits to the Children's Hospital Westmead, support of Caritas Australia's Project Compassion, activities with St Vincent de Paul and involvement with numerous projects of the Sisters of Mercy, including Mamre House at St Mary's in Sydney.
"At Catherine McAuley we seek to develop in all our students an awareness of those in need and encourage active involvement in social justice initiatives," said Margery.
Catherine McAuley Westmead is a Catholic systemic school in Sydney's west offering a comprehensive education for girls from Years 7 to 12.