Archived News Item
Keeping the flame alive
November 4, 2009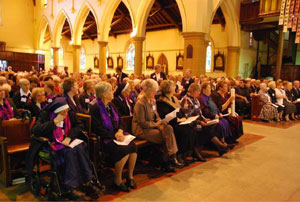 Celebrations were held in Goulburn, NSW, from Friday October 23 to Monday October 26 to mark the 150th anniversary of the arrival of the Sisters of Mercy in NSW from Westport, Co. Mayo in Ireland. Shirley Garland RSM (Goulburn) reports.
When the six sisters (Mother M Ignatius Murphy, Srs M de Pazzi Dolphin, Ligouri Mooney, de Sales Meyler, Stanislaus Maxwell and Rose Hughes) left the Convent of Mercy, Westport, Co Mayo, Ireland for Goulburn NSW Australia, those at home promised to keep a candle burning for their safe journey until they heard that the travellers had reached Goulburn. At this time, 150 years after that event, the Goulburn sisters were able to return their gratitude to Westport, at the Sesquicentenary Mass on Sunday October 25, by presenting a candle to Sr M Bernadette McNally, asking her to take it back to Westport, witnessing to the acknowledgement of our indebtedness to their sisters.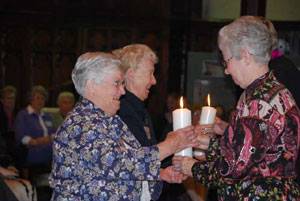 The Goulburn Congregation comprises three original autonomous foundations the first being made in Goulburn in 1859. From this first foundation Mother M Ignatius Murphy, Srs M de Sales Meyler, Camillus O'Donnell, Xavier McDonnell and Brigid Carroll set up a second foundation in Albury NSW in 1868.
The third separate foundation was made in Yass NSW by Mother Paul Joseph Fielding of Rochfort Bridge, Ireland who arrived there with Srs M Alacoque Joseph McLaughlin and Bernard Joseph Grennan in 1875. Sr M Pius Doran from Rochfort Bridge was present at the Sesquicentenary Mass at which the sisters asked her to return a candle to Rochfort Bridge as a symbol of their appreciation and gratitude.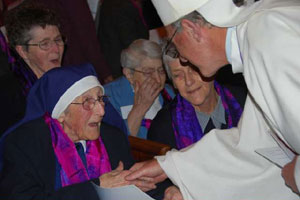 The principal celebrant at the Sesquicentenary Mass was Archbishop Mark Coleridge (Canberra-Goulburn Archdiocese). He was accompanied by the Apostolic Nuncio, Most Reverend Giuseppe Lazzarotto, Bishop Gerard Hanna (Wagga Wagga) and Archbishop Francis Carroll (Former Archbishop of Canberra-Goulburn), Bishop Pat Power, (Canberra-Goulburn), Bishop Patrick Dougherty (former Bishop of Bathurst) and many other priests from the two local dioceses and beyond.
We were glad to have with us Nerida Tinkler RSM, Caroline Ryan RSM and Karon Donnellon RSM the Australian Institute of Sisters of Mercy Leadership Team, Denise Fox RSM, Mercy Leader from New Zealand, and sisters from a number of the other Mercy congregations. As well, present were members of many other religious orders, including our very close friends who have accompanied us over the years in Goulburn, the Sisters of St Joseph and the St John of God Sisters, and Fr Gerard Mahoney CP from the Passionist Community in Marrickville.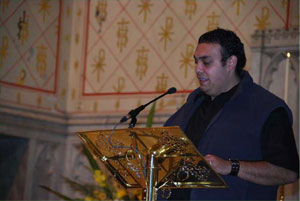 Happily many Mercy Associates were present, particularly we appreciated the presence of Mrs Billee Morwich (McAuley) a relative of Catherine McAuley, foundress of the Sisters of Mercy in Ireland. Among our honoured friends and benefactors were women who had been professed members of our congregation, but who had, at some time, chosen to move outside the Sisters of Mercy to live out their Mercy call.
There were a number of civic leaders and leaders of church/religious organisation who honoured us with their presence: Senator Ursula Stephens, Mr Alby Schultz MHR, Ms Pru Goward MLA and others representing Local Government.
Most appreciated was the presence of people from across the region who have been part of our story over many years.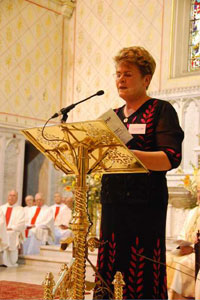 Mr Alfie Walker, Chairperson of the Pejar Local Aboriginal Land Council, acknowledged the Original Owners of country.
Sr Marie Duffy (Goulburn Congregation Leader) welcomed all to this great celebration of 150 years of Mercy Life in South Eastern New South Wales.
Archbishop Coleridge (pictured below) gave the homily in which he spoke of the gift of the lives of the early local congregation foundresses, Mother Mary Ignatius Murphy (Goulburn and later Albury) and Mother Paul Joseph Fielding (Yass and later Wilcannia). He also reminded us of the contribution made by Mother M Brigid Hartnett towards the amalgamation of the Goulburn, Albury and Yass Houses to form the Goulburn Congregation in 1907.
Download Archbishop Coleridge's homily here.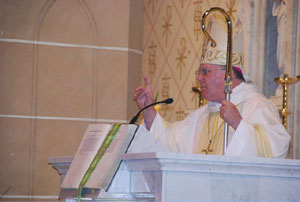 We appreciate the involvement of the Goulburn City and Parish Community, especially the organist Greg O'Keeffe, the musicians and choirs of Sts Peter and Paul Combined Catholic Primary schools and the Goulburn Regional Conservatorium of Music, and all who helped with decoration, parking, and outdoor seating and screen. (From the Mass Booklet).
After Mass guests were hosted to luncheon on the grounds of Trinity Catholic College, Goulburn (Originally Our Lady of Mercy College).
A highlight of this event was the cutting of the cake by the two visiting Irish Sisters, Sr Marie Duffy and Sr Christopher Ryan.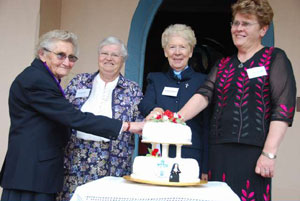 The afternoon proved a wonderful chance for catching up with sisters and friends and with visiting the Sesquicentenary Exhibition. It was hard to finish off the day as there seemed to be so many more people to see and so much more to enjoy in the Exhibition.
Photos: Taken by Naomi Fallon for The Catholic Voice (Archdiocese of Canberra-Goulburn)
Other articles of interest: