Archived News Item
KATHLEEN TIERNEY rsm
February 8, 2016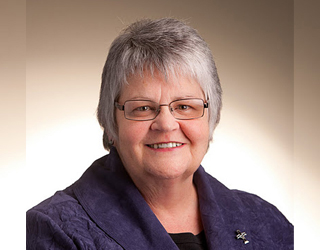 Kath was born in Mildura in 1952 and grew up there, one of six children. She was educated by the Sisters of Mercy in Mildura and in St. Arnaud, both country towns in Victoria. Prior to entering the Sisters of Mercy, Melbourne Congregation in 1975, Kath had worked in Real Estate in Mildura for a period of seven years. Following her novitiate and professional training, Kath was appointed to the Mercy Family Care Centre in Geelong (1981), a comprehensive child and family welfare agency, where she worked initially as Financial Administrator and then became Director of the Agency. Kath spent nineteen years in child and family welfare, during which time she was on many external committees and bodies for the Sisters of Mercy, for the Government and in the wider sector.
In the years leading up to 1997, Kath was very involved in the amalgamation of seven Catholic welfare agencies, under the auspice of three Congregations (Christian Brothers, Sisters of St. Joseph and Sisters of Mercy). This led to the establishment of MacKillop Family Services in July, 1997, an agency which continues today to be a leader in the Child and Family welfare area in Victoria, New South Wales and Western Australia. In September 1999, Kath was elected to the position of Congregation Leader, a position she held for twelve years.
Following her time in Congregation Leadership, Kath was engaged by the Catholic Education Office, Melbourne, as the Senior Officer, Professional Conduct, Ethics and Investigations for a period of two years. Her current position is Senior Advisor to the Vicar General, in the Catholic Archdiocese of Melbourne. In the both roles, Kath has been heavily involved in the area of Professional Standards and Royal Commission into Institutional Responses to Child Sexual Abuse.
Upon receiving the Australia Day award Kath commented in an ABC Online item, "I am somewhat embarrassed … I am very grateful to be an Australian, grateful to be part of the Catholic Church and I believe it honours all the people I have worked with in partnership over many, many years".
Having spent much of her working life focusing on child and family welfare and choice in aged care, Kath now hopes to turn her attention to working with those in prisons. "A number of people go to prison much later in life now and they will die in prison," she said. "The question is how to make some aged care provision in prison and allow dignity in dying. One must always strive to make people feel worthwhile."
Messages to: Kath Tierney rsm
Read the account of the Australia Day award HERE
Link: ABC Online 26/1/2016