Archived News Item
Justice group honours Parramatta sister's service
February 21, 2008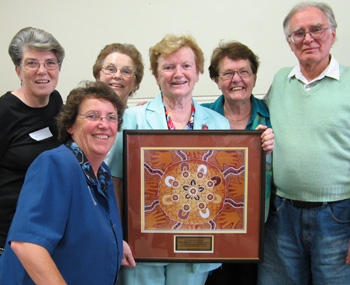 At the Annual General Meeting of Catholics in Coalition for Justice and Peace (CCJP) on February 17, the Committee formally honoured Sister Margaret Hinchey's commitment to working for justice. During 2007, CCJP celebrated 20 years of its justice and peace life, and for the last ten of those years, Margaret Hinchey has been an energetic and efficient convenor.
Margaret Hinchey RSM: Citation 2008
Marg's Life – A Journey into Justice
During 2007, CCJP has celebrated 20 years of its justice and peace life, and for the last ten of those years, Margaret Hinchey has been our energetic and efficient Convenor. In light of that, today we want to formally honour Marg's commitment which has been so significant for CCJP.
Margaret was probably genetically programmed to become a person deeply involved with the poor and issues of social justice because both her parents, Kathleen and Michael, each in their own way, had that same strong concern. Kathleen was the traditional wife and mother – her way was to visit family, friends, the sick and anyone who needed comforting, giving from her own very limited means, anything she could. Michael used his business contacts to assist unemployed, wards of the court and the disabled with job opportunities, and his political knowledge to work for justice through government.
So how could Margaret have failed to continue to work for the poor and all who are oppressed with this example before her?
Margaret entered the convent at age 17, and it was without doubt that it was her desire to follow the Gospel ideals of justice which significantly led her to that vocation. Coming from the 'Battler' class, she has always had a sensitive understanding of the needs of the poor, and during her time as a teacher and principal Marg has always been aware of the financial and social difficulties many families had in educating their children. She made certain that she knew which families needed extra support, and kept school expenses to a minimum.
Later, as an education consultant for the Archdiocesan Catholic Education Office, Margaret continued her approach to social justice in the policy making area, supporting and promoting the needs of both families in the schools and the school staffs.
In the 1980s, Margaret became the co-ordinator of the National Mission and Justice Education Programme, a project of the Australian Bishops' Conference. This task she embraced wholeheartedly and carried it out extremely well. Under Marg's enthusiastic leadership, the Mission and Justice Education Team managed to dialogue with justice groups and school and parish groups all around Australia, and addressed a multitude of social justice concerns including indigenous, multicultural and issues of discrimination in all its forms.
As a modern sister, Margaret has always been well able to use the skills developed in her religious community and the support that her fellow religious sisters offer. Importantly, she has used those skills and that support to work for justice for marginalised people in the world around her. At the same time, she challenges her fellow Catholics to present an image of a church following the example of Christ to engage in the world, as she does, rather than propping up an institution out of touch with the world.
Marg was a member of the inaugural Conference of Leaders of Religious Institutes (NSW) Social Justice Committee. This group educates and calls to action members of Religious Congregations on issues of social justice. It also directly lobbies parliamentarians on particular issues and speaks out on these issues on behalf of the Religious Leaders of NSW.
Australian Political Ministry (PolMin) was formed nine years ago to be an independent voice for structural change within Australian politics; Marg was a founding member of this group. Her knowledge of the Church's teaching, her analytical mind and her ability for public speaking, in person and on radio, has been an essential element to the success of this group.
Among other groups Marg has been associated with NetAct and Beyond Bars. Marg is also a regular speaker at Spirituality in the Pub and a long term convenor of the Parramatta WATAC group.
To all these organisations Marg has brought a passion for the poor and marginalised; particularly our indigenous sisters and brothers. For Marg's lifelong passion and commitment to justice we thank her, and celebrate her as CCJP's longest serving Convenor. It is our delight to present to you today this special award Marg.
Citation read by Anthony Klein as the award was presented by Anne Lane.
Photo: Anne Lane, at front, with L-R, Marie Butcher, Cecily May, Margaret Hinchey, Bernice Moore and Anthony Klein.
From: Sister Marie Butcher RSM (Local Communications Facilitator, Parramatta)
Email: marie.butcher@mercy.org.au