Archived News Item
June edition of LISTEN out now
June 26, 2008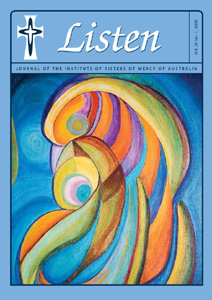 The June 2008 edition of LISTEN, the journal of the Institute of Sisters of Mercy of Australia, is out now. To give readers an overview of what's covered in this edition, we are publishing Sister Caroline Ryan's editorial.
EDITORIAL – June 2008
On February 13 this year, in his first parliamentary act as Prime Minister, Kevin Rudd said 'sorry' to Australia's Indigenous peoples for the soul-destroying injustices they have suffered since the earliest days of colonisation. "On behalf of the parliament of Australia, I am sorry. I offer this apology without qualification. We apologise for the hurt, the pain and suffering that we, the parliament, have caused you by the laws that previous parliaments enacted. We apologise for the indignity, the degradation and the humiliation these laws embodied" he said to all members of Aboriginal and Torres Strait Islander communities, hundreds of whom were present in or gathered around Parliament House that morning.
In its entirety, Mr Rudd's historic speech is testimony to a deeply felt, long held desire by most Australians to acknowledge, with one authoritative voice, that the establishment and growth of our fine country has been tainted by destruction and dispossession of generations of 'first peoples'. Despite provoking minor expressions of dissent and cynicism around the country, the naming of and apologising for that shameful truth, has matured the spirit of our nation and offered us new integrity.
I refer to this determining event of February 13 because essentially it is about forgiveness – owning the need for it, asking for it, receiving it, being transformed by it. As such, it is a compelling motif for this issue of LISTEN which explores the place and power of forgiveness in human life, with its various graced components: truth and truth-telling, contrition and conversion, reconciliation and restoration, mercy and justice, healing and hope.
The first four articles are from among the papers prepared for the Mercy International Research Conference (MIRC), held in Burlingame last November. LISTEN publishes them here with endorsement of the Conference Chair, and their authors, Margaret Farley, Janet Ruffing, Mary Sullivan and Patricia Fox. As will be evident to readers, each of these papers is a response to the primary stimulus material gathered for the Conference, that is, the 'signs of the times' analysis of particular social realities around the earth which continue to cry out for God's mercy.
In her reflection upon what these realities might be asking of Sisters of Mercy today, Margaret Farley identifies forgiveness as "an urgently needed work of mercy". She says, "Those whose particular calling is to bring mercy to the world, both as agents and as signs, have a new and urgent responsibility for this work of mercy". Her explication of this sharp insight is brave and illuminating. As it challenges us to unfamiliar ways of engaging with deep and disturbing differences, it could also be dislocating. Kevin Rudd refers to that kind of radical engagement as "wrestling with our own soul."
While Janet Ruffing does not address forgiveness explicitly, its redemptive power drives the way she probes the spiritual implications of mercy among self-fracturing humanity. Her probing here is in the company of some provocative theologians: Hildegard of Bingen who praises the healing power of the Spirit; Mary Jo Leddy who promotes 'radical gratitude' as an antidote to the 'culture of dissatisfaction' which seems to have stolen the soul of the first world; Albert Nolan who recognises signs of hope for the human community in global movements of compassion and peace; Jon Sobrino who teaches that indignation, mercy, and joy are marks of a spirituality of Gospel liberation; Ivone Gebara and Beverly Lanzetta who critique something of the ways in which 'Catholic ecclesial life' and the wider society continue to legitimise sexism and so collude with violence against women and deep wounding of the earth.
Catherine McAuley, Sister of Mercy, is the focus of Mary Sullivan's paper. When we meet her yet again in her own time and place, among the people who had first claim on her merciful heart, we recognise that she was indeed both agent and sign of God's reconciling outreach to the most vulnerable. Mary believes that Catherine's authenticity in this regard was her poverty – freely chosen. As she writes, "Her life became a powerful witness against greed and the wanton consumption of resources it entails and fosters, as well as a credible witness of genuine solidarity with those who had nothing and whom others considered 'the least'…"
Mary also urges today's Sisters of Mercy to emulate Catherine in her voluntary material poverty "as an act of solidarity with the world's poorest people…" More dislocation! Perhaps.
Patricia Fox attunes herself to Mary's notion of 'a mature theology of God', that gift so desired by Catherine because of its power to free people from grinding spiritual impoverishment. As she develops this key understanding, Patricia, like other contributors to MIRC, sees the 'spiritual works of mercy', in the sense of the ministry of spirituality, as especially significant for the twenty-first century. Her particular leaning is towards confirming "the full humanity of women" – diminished by centuries of androcentric interpretation of the symbols of God which, in effect, disallow the truth that women are imago dei. Surely this all-pervasive insult to God and the integrity of God's creation, demands atonement.
The other articles contribute to LISTEN's wide-ranging discourse about forgiveness from a number of different perspectives.
From the Encounter programme (ABC Radio National), there is Margaret Coffey's interview with the lawyers and priest who advocated for Van Nguyen, the young Australian executed in Singapore for drug dealing. They are joined by two philosophers in discussion about the complex mix of repentance, pleas for clemency, and competing notions of justice, and what it evokes as public attitude.
Michael Whelan reflects on forgiveness as "an unearned outpouring of God's life" in which we are free to participate or not. When we choose to participate, Michael suggests, we become one with God's life-giving presence in our broken world.
Several Aboriginal people share their feelings and thoughts about the Prime Minister's Sorry Statement, "sorry is often a hard word to say – a small word with so much meaning – but no one can move forward without it." Here, Marea Roberts resonates with their moving expressions in her poem '13 February 2008'.
With tensions between Islam and Christianity constantly threatening immense global pain, Cheryl Camp encourages readers to understand the crucial place of dialogue in achieving right relations, true at-one-ment. Among the various expressions of dialogue she notes that the most critical is "the dialogue of mutual repentance…"
Gerard Moore addresses the relevance of rites of reconciliation, sacramental and pastoral, as they have evolved over centuries in response to communal and individual need for forgiveness. Today, he sees a recovery of the primary but prescribed purpose of 'individual confession', and at the same time, a development of other forms of reconciliation which reflect what Mary Sullivan and Patricia Fox might have described as 'a mature theology' of sin and forgiveness in the life of the community.
So, once again LISTEN offers a wealth of good reading for now and over the coming months. Thanks to all writers for their generosity, scholarship, and creativity, to Stephanie Thomas for preparing the contributions for publication, and to Kathy Fuller for a range of administrative services.
And thanks too to our Prime Minister. With Indigenous and non-Indigenous Australians, I am grateful to him for his leadership in telling the nation's truth with 'firm purpose of amendment'. Perhaps he should have the final word:
Mr Speaker,
today the parliament has come together to right a great wrong.
We have come together to deal with the past
so that we might fully embrace the future.
We have had sufficient audacity of faith
to advance a pathway to that future,
with arms extended rather than with fists still clenched.
So let us seize the day.
Caroline Ryan RSM, EDITOR
Email: caroline.ryan@mercy.org.au
COVER ARTWORK: This is a copy of an acrylic painting by Sister Kath Pierce RSM (Adelaide) who died on January 31, 2008. She created it as part of an art course which she enjoyed during her later life. Kath's teacher asked if it could be hung as the best example of her students' work for that year, and for a short time, it was displayed in the Art Gallery of South Australia.
Speaking at Kath's funeral, Sister Ruth Mullins RSM said: "the painting is about the movements of love. There is an encouraging shadow of strength and love at the top, bringing hope to life in a flowing complexity of tones, with faith in its harmony and depth, and of fire giving life and warmth…This painting is…about life with compassion for all it embraces, and ultimately peace."
PLEASE NOTE: If you would like to subscribe to LISTEN, the Institute's theological journal, published twice yearly ($25 per annum), find out more here. Alternatively, a limited number of single copies are available for purchase from the Institute Office. Contact Kathy Fuller on Phone: (02) 9564 1911 or Email: Kathy Fuller.