Archived News Item
June 2009 edition of THE BILUM available
June 6, 2009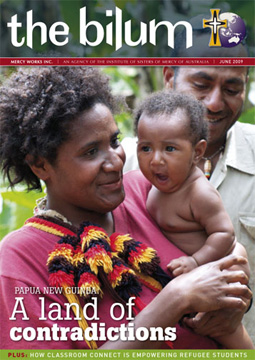 The June edition of "The Bilum", the magazine of Mercy Works Inc., has been mailed to all members and donors.
The entire magazine is also available online in PDF format, or you can download individual stories.
Our cover story focuses on PNG, a land of contradictions. Why is it that this diverse and beautiful country, rich in culture and natural resources, is also "chronically poor"?
We also feature the Classroom Connect project which is supporting refugee students in some of Sydney's schools as they settle into school and life in Australia.
There are also our regular sections: From the EO, News, In Focus, and In the Community.
We hope you enjoy the wealth of stories and issues covered. Email us and let us know what you think.