Archived News Item
June 2007 edition of LISTEN out now
June 21, 2007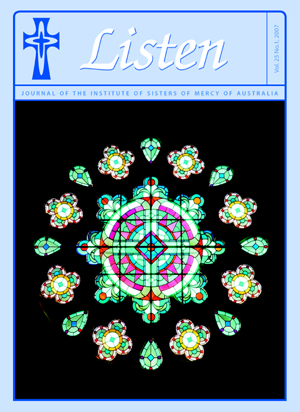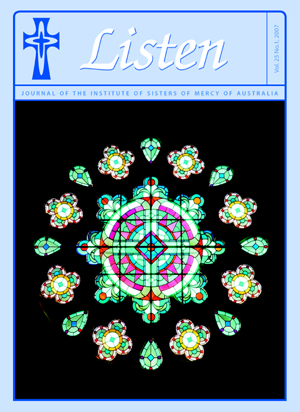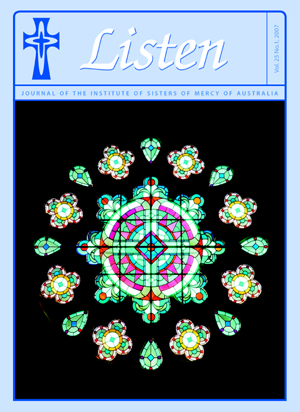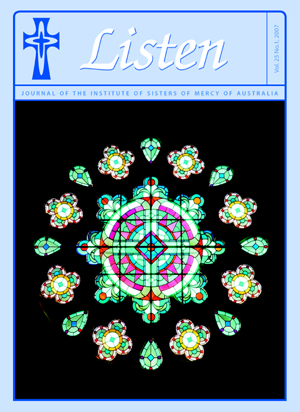 The June 2007 edition of LISTEN, the journal of the Institute of Sisters of Mercy of Australia, is now available. To give readers an overview of what's covered in this edition, we are publishing Sister Caroline Ryan's editorial. For those who haven't subscribed, a limited number of copies are available for purchase from the Institute Office at $10 each. Or why not take out an annual subscription at a cost of $25? Contact Kathy Fuller if you're interested on Phone: (02) 9564 1911 or Email: kfuller@mercy.org.au
Editorial from LISTEN, June 2007
In the early evening of March 6, 1857, the first Sisters of Mercy arrived in Melbourne from Perth. One hundred and fifty years later, to the day, and almost to the hour, the celebrations to mark this historic and providential event began with a public lecture given by the Mercy world's woman at the United Nations, Deirdre Mullan. The text of her address, entitled Journey to the Heart is the first article in this issue of LISTEN.
Like the hundreds who were able to gather for Deirdre's presentation in the Cardinal Knox Auditorium of the Melbourne Archdiocese, readers will undoubtedly be heartened by the vigorous way in which she interacts with Ursula Frayne and her companions, juxtaposing the arduousness of their physical journey – Dublin to Perth, Perth to Melbourne, with the challenges of their spiritual journey – one that led them ever more deeply into discipleship among new people in a strange and ancient land. Deirdre is also adamant that this journey is incomplete and yearns to be continued. Today, she insists, it must be undertaken by those of us who choose to belong to the tradition of Gospel life begun by Jesus in Nazareth, interpreted by Catherine in Ireland, grown by Ursula in Australia – always among the ones dispossessed of dignity and bereft of justice.
Helen Delaney's warm expression of thanks to Deirdre, which is also published here, reinforces the strength and timeliness of Journey to the Heart. It also offers readers the service of reiterating some of Deirdre's questions. These are not merely rhetorical. In fact, they are intended to be probed incisively because, in the context of the paper itself, the answers we give could take us towards a future of Mercy life, brave and holy with new conviction.
Another winning feature of the sesqui-centenary celebrations involved three accounts of Ursula's missionary years that gave lovely insights into her faith, tenacity, foresight, practical wisdom, humour and acumen. Within the poignant setting of the Ursula Frayne Memorial Chapel, where Ursula is buried, along with her assistant, Anne Xavier Dillon, Helen Harding, Congregational Leader of Newfoundland and Breda O'Reilly, Congregational Leader of Perth, each told the vibrant story of her congregation's foundation by Ursula (Newfoundland 1842-1843; Perth 1846-1857). The Melbourne story, Remembering Ursula Frayne, prepared by Kathleen Hill and narrated by Mary Duffy, was the third in this exciting trilogy and LISTEN is pleased to publish it here.
Away from the celebrations in Melbourne, life, of course, goes on, as Berenice Kerr reminds us with her brief paper Looking at Community Structures. Here she attends to one of the niggling preoccupations of our time – how to nurture and express that authentic communio which "takes each of us into God's life and thus to a new level of life with each other." Related to this is the role of the Congregational Leader which, in some instances, has absorbed responsibilities that formerly belonged locally. Berenice suggests that such a "de facto" development may not be the best "structure" for fostering communio within the group as a whole.
The issue of leadership in religious life is also the focus of Stephanie Thomas' interview with Jan Barnett RSJ. As Stephanie succinctly explains, Jan, in her recent doctoral study on the subject, was concerned with challenges that leaders have in these 21st century days of transition, with their mix of pain and promise, "managing… the death of current expressions of religious life… nurturing the sparks of new life …" She finds too that Jan's prescient use of imagery from David Malouf's poem "Between Towns" is an effective motif for understanding this critical stage.
Thanks to Maureen McGuirk's wise and whimsical "˜exegesis' of "South Country", another Australian poet, Kenneth Slessor, provokes consideration of the reconfiguring movement in which the Institute is currently engaged. In writing this piece for LISTEN, Maureen is keen to advance the discourse about reconfiguring towards a "solution as vividly and as unmistakably Australian as Slessor's poem is vividly and unmistakably a picture of the Great South Land of the Holy Spirit."
Frances Baker and Patricia Bolster in their respective articles Towards Moral Decision Making for the Christian and Embryonic Stem Cell Research – Good Science or Good Ethical Decision Making: Where's the Balance? remind us that ours is an era in which issues that deserve the discipline of an informed, ethical judgement are increasingly complex. So, how do Christians arrive at a right moral position when the necessary knowledge is highly sophisticated, or when prevailing social values are too simplistic or are inconsistent with the Gospel? "It is extremely challenging" says Frances "… to be faced with debate or discussion over matters such as capital punishment for drug traffickers, the rejection of people seeking asylum from war, terror or hunger, medical technology that experiments on humans …."
The subject of embryonic stem cell research is a case in point because, in a certain sense, it has won the public mind with what seems to be a promise of hope and healing in a number of the toughest areas of human suffering. However, in light of her comprehensive explanation of some of its dense technical aspects, Patricia asserts that the moral questions it raises are vexed. She believes that they still require responses which consistently honour good science, good ethical principles and the inherent dignity of human life from its earliest, most exploitable stage.
Writing from the perspective of a sort of "˜ethics in action', Deirdre Gardiner shares something of her ministry as Mission Integration Manager of a large Catholic regional hospital. This is a grounded, and probably for readers, a "˜grounding' reflection as Deirdre's task is to work with groups representative of the full range of hospital staff so that all understand and, ideally, are committed to the stated values of their organisation: human dignity, compassion, justice and unity. It is no small task either as it must be done in one half hour session per group each year.
Offering LISTEN an appreciation of marian spirituality which is likely to be quite different from the familiar, Birute Arendarcikas invites readers to ponder the Protection of the Mother of God, an icon from the Russian Orthodox tradition. However, while its context and art form are distinctively eastern, the appeal of this iconic Mary is universal. Like our own Mother of Mercy, she conveys protection, intimate care, compassion, wisdom and faithfulness. Indeed, she is a good friend to us all, so perhaps, in the interests of true unity of heart and mind, between the Churches of the east and the west, and especially among the sisters of our Institute, we could ask her often to remember us before our God.
In another vein altogether, LISTEN publishes the first of what it hopes will become a regular feature about current films. This time Val O'Hara reviews three popular movies with flair and insight. Readers who have not seen these will no doubt rush off to the DVD outlets. And so might those who have – nothing like reviewing the reviewer's review!
There are two poems for this edition. The first, Through Each To Other by Marea Roberts is about a new birth for Mercy and relates to the "˜gestation' of reconfiguring in our Institute. The second, Slipstream by Judith Carney, was printed in the last edition of LISTEN but contained a small but not insignificant error. With apologies to Judith and to all readers who appreciate allusions to Gerard Manley Hopkins, it is repeated here correctly.
So once again, I want to thank all who have enabled this edition of LISTEN: the contributors for their rich and wide range of material; Stephanie Thomas, the Institute's Publications Facilitator, for her skills and patience; and Kathy Fuller for all her administrative assistance.
Blessings.
Caroline Ryan RSM / Editor
Email: caroline.ryan@mercy.org.au