Archived News Item
Jubilee Celebrations at Yamba
September 22, 2006
460 years of lived religious consecration were celebrated on September 13 at Star of the Sea, Yamba. 46 Sisters of Mercy of the Grafton Congregation, the Bishop of Lismore, and 15 priests of the diocese marked the Platinum, Diamond and Golden Jubilees of Sisters M. Eymard Kennedy and Anne Moroney (70 years); Juliana Dwyer and Dorothy Hogan (60 years); Maureen Clarke, Ann Grennan, Judith Weiley and Shirley Dallas (50 years).
The Eucharist was the focus for the celebrations as the sisters gathered with His Lordship, Bishop Geoffrey Jarrett and the priests who had come to honour the occasion. There was general appreciation of the thoughtful and encouraging homily given by Father Bill Mills from "Mamre" Retreat House at Mullumbimby. Sister Anne Gallagher enlivened a joyful liturgical occasion with her organ accompaniment to the singing.
Before the assembled congregation, Sister Barbara Bolster, the Grafton Congregation Leader, welcomed the Jubilarians and all present. After the homily, she invited all sisters present to join with the eight Jubilarians in renewing their vows of Chastity, Poverty, Obedience and Service.
At the conclusion of the liturgy, all present enjoyed the meal provided in Star of the Sea dining room. Once again, joy was the keynote. Sister Barbara spoke of the lives and ministry of the Jubilarians; she entertained all with anecdotes that highlighted the passion for Mercy and commitment to God and God's people that so motivated the eight sisters whose lives were being honoured.
Each Jubilarian responded with gratitude to God and the community; the stories they told confirmed that they had lived Catherine McAuley's spirit and her love of fun. Catherine would surely be delighted that her charism is so alive and well in the Grafton Mercy Congregation.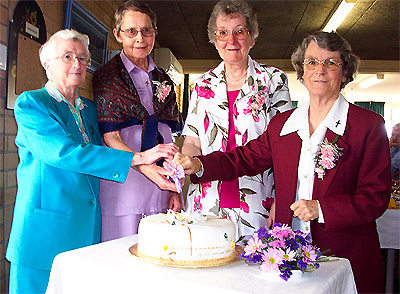 Golden Jubilarians Sisters Maureen Clarke, Judith Weiley, Ann Grennan, Shirley Dallas.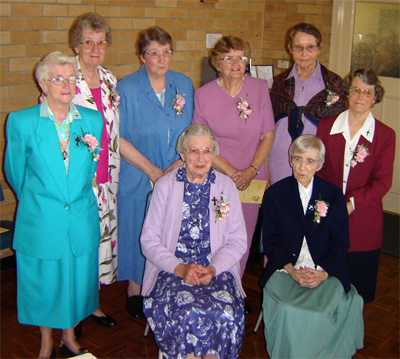 All the Jubilarians Sisters Maureen Clarke, Anne Grennan, Dorothy Hogan, Juliana Dwyer, Judith Weiley, Shirley Dallas Seated Eymard Kennedy, Anne Moroney.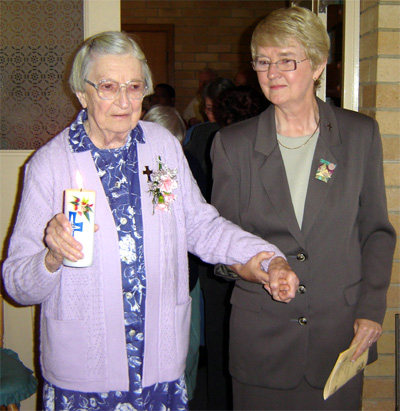 Platinum Jubilarian Sister Eymard Kennedy with Congregation Leader Sister Barbara Bolster.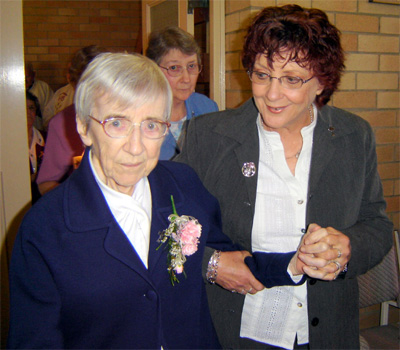 Platinum Jubilarian Sister Anne Moroney with Congregation Vicar Sister Berenice Kerr.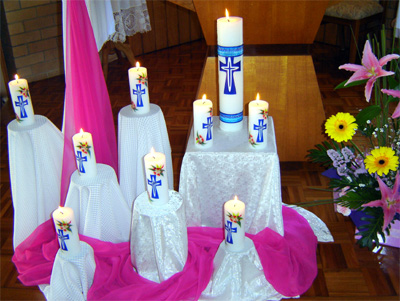 Jubilee Candles made at Jamberoo Abbey.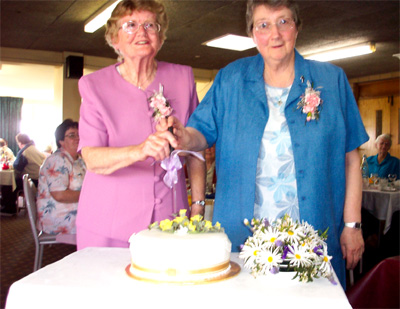 Diamond Jubilarians Sisters Juliana Dwyer and Dorothy Hogan.
Click here to view "˜Celebration of Jubilee Star of the Sea – Yamba…