Archived News Item
Jubilee celebrations at Goulburn
April 12, 2007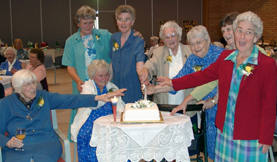 On Saturday March 31, Goulburn Congregation celebrated the jubilees of nine of our sisters. After a commemorative liturgy, celebrating with gratitude the life in Mercy of each of the sisters, we moved on to a festive lunch together where, as usual, many stories were told and much laughter could be heard.
Our jubilarians for this year are:
70 years – Sister Francesca Parkin
60 years – Sisters Mary Esler, Jessie Mitchell, Brigid Morton, Iris O'Connor
50 years – Sisters Helen Kennedy, Rita Savage, Margaret Watson
40 years – Sister Margaret Hart
Unfortunately, Sister Brigid was unable to be with us for the day, due to illness. However, she was very much a part of the whole celebration in spirit.
From: Sister Shirley Garland RSM (Local Communications Facilitator, Goulburn)