Archived News Item
Jubilarians Honoured in South C and Central B
May 29, 2017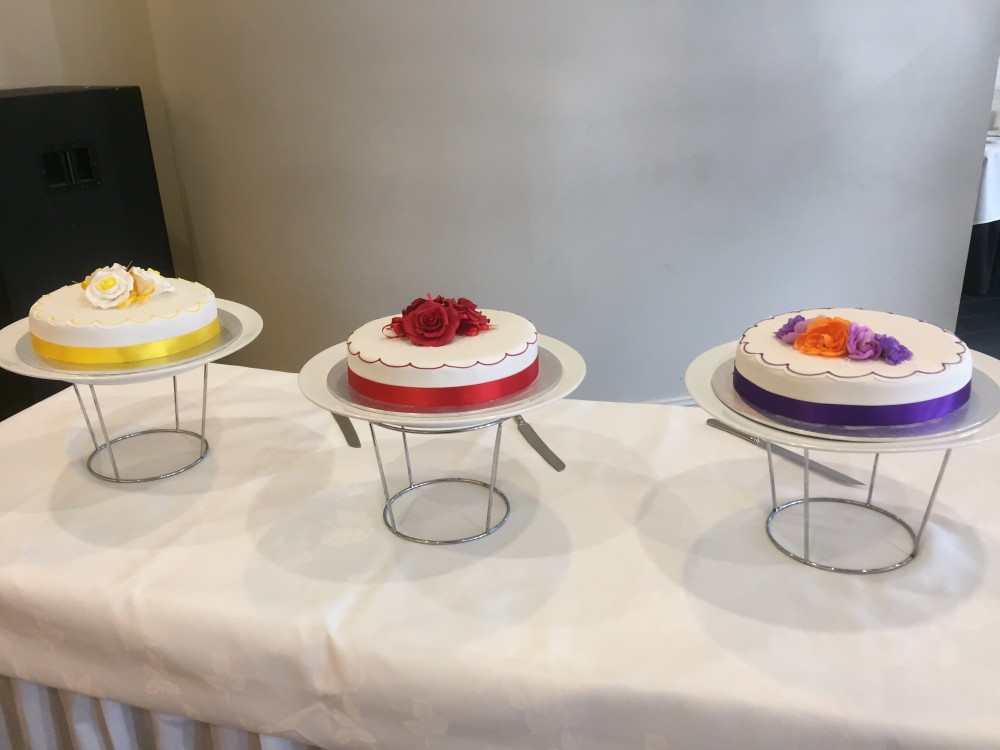 One of the highlights of each year are the many Jubilee celebrations held across the Institute.  These celebrations mark the anniversary of religious profession of Sisters who have contributed to the life of the church and wider community in so many ways. Just Mercy is pleased to report on two of these celebrations this month and looks forward to reporting on others in the coming months.

South C
On May 13,  South C Community, celebrated the commitment of nine Sisters at 'L'unica on Parkville'. Over 160 Sisters were in attendance, coming from across Victoria and interstate.
The gathering commenced with a prayerful reflection and included a celebration of the lives of the Jubilarians, where Faye Kelly rsm (Community Leader) and Margaret Moore rsm (recently concluding her role as Acting Community Leader) called out each Sister's name as well as her motto. As had been done in previous years, Moira Sheedy rsm very beautifully hand painted and framed each Sister's motto and these were presented to the jubilarians at their tables during the celebrations.
After the Sisters renewed their vows, a slideshow of the life of the celebrated Jubilarians was shown. Each Sister supplied six photos and these images were played to the song 'There is a Place' by Liam Lawton.
South C Jubilarians:
50 Years
Julie O'Brien rsm
60 Years
Mary Duffy rsm
Joan O'Toole rsm
Joan Ryan rsm
Jean Walton rsm
Paulina Fitzpatrick rsm
Pat White rsm
Patricia McArlein rsm RIP
70 Years
Josephine Perversi rsm
Central B
The following Saturday, May 20, saw more celebrations, this time in Central B Community. Twenty-two Sisters' Jubilees were fittingly recognised. Arriving by bus and car, Sisters gathered in St Patrick's Church at South Grafton for the liturgy.
The Jubilarians entered in procession and were formally welcomed by Community Leader, Mary Geason rsm and by celebrants Frs Paul Winter and Fred Basco. All gathered were led into the celebration by commentator Colleen Brady rsm.
The festivities concluded with a celebratory meal at the 'Grafton-on-the-Clarence' where Institute Councillor, Barbara Bolster rsm spoke, acknowledging the many years of the Jubilarians lives of service – 40, 50, 60 and 70. Central B's 'senior' 70-year Jubilarian, Aileen Larkin, had the honour of cutting the cake.
Central B Jubilarians:
40 Years
Catherine Corbett rsm
Joan Doyle rsm
Maryanne Loughry rsm
50 Years
Mary Geason rsm
Anne Ryan rsm
Mary Lynch rsm
Helen Law rsm
Colleen Rhodes rsm
Eveline Crotty rsm
60 Years
Rhonda Bast rsm
Margaret Shakeshaft rsm
Gemma Burke rsm
Val O'Hara rsm
Gemma Crowe CSJ
Gabrielle Bloomfield rsm
Maureen Cawley rsm
Anne Hughes rsm
Marie Matthews rsm
70 Years
Janet Quade rsm
Aileen Larkin rsm
Patricia Lake rsm
Moya Lantry rsm
Congratulations and thank you to these and the fine women of Mercy celebrating their jubilees this year. May God's blessing continue to shine upon you all.
Stories and Photos from other Jubilee Celebrations
As mentioned above there are many other Jubilees that have occurred or will be happening across the Institute. We would love to publish a story and feature photos from these events here on the website and in Just Mercy. Please send your contributions to – communication@ismapng.org.au
29 May 2017