Archived News Item
Journey to Mercy
September 19, 2013
The Journey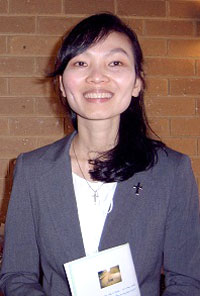 My journey to Australia and my early childhood awareness of my desire to explore religious life were challenged with many twists and turns! I and my younger brother escaped from Vietnam a number of times, but were unsuccessful until finally we arrived in Malaysia and spent almost 5 years, 1990 – 1994, on Pulau Bidong Island and Sungai Besi camp, then we were repatriated to Vietnam. During the time in the refugee camps, I experienced Mercy through the support and work of three Sisters of Mercy, Joan Campbell, Maureen Lohrey and Carole McDonald. As stated in my thank you speech following my First Profession ceremony "Your presence with the students at schools and the image of the three of you walking nearly a hundred steps up and down to church every afternoon to be with us created a feeling of safety. You were a true presence of Mercy in your support of us".
In late 1996, I was sponsored to come to Australia under a special program for returned refugees. I did some English courses, then undertook university studies and have worked as a Social Worker. I thought I had lost contact with the Sisters, even though I remembered their names and knew they were Sisters from Australia, I did not know the name of their order or what part of Australia they came from. In 2007, I bought a DVD "Returning to Freedom Lands: Bidong-Galang 2005", it was a documentary about a trip of the first group of the Vietnamese refugees going back to visit the camps in Malaysia and Indonesia. Unexpectedly, I saw the three Sisters in the DVD and with the help of a Priest friend I gained the contact phone number for one of the Sisters and I reconnected with the Sisters again. The mystery of this reconnection led to my immersion in the Initial Formation Program with the Sisters of Mercy from 2008. As also stated in my thank you speech "I did not have to find out what Mercy is all about before I decided to join, as the image and presence of the three of you in my heart had given me all the information I needed".
Immersion in Mercy
The journey of the 5 years, 5 months and 15 days in the Initial Formation Program leading to my First Profession is a treasure. It was my delight in theological studies particularly scripture as well as cosmology and ecological study, Mercy prayer forms and traditions with a wide age-range of Sisters that has been a rich unfolding of my spirituality and direction in my commitment to religious life. The story of Catherine McAuley's life and commitment has been a strong source of encouragement and definitely a model to trust in Providence when at times my desire to have all the family settled in Australia became a distraction to this call to Religious Life.
The Ceremony
My First Profession ceremony was on Sunday 11 August 2013. I was wrapped with love and support of the 200 plus people present, including the Sisters, family and friends, and also of people who could not come but sent messages of support. The Scripture texts were proclaimed in both English and Vietnamese. The Rite of Profession was written in both languages. The Mercy peer group came from various States and the Eucharistic Ministers represented five different nationalities. The engagement and expression of everyone in the liturgy and throughout the afternoon made the day became such a memorable occasion and gives me the confidence to join the Sisters in bringing Mercy to others.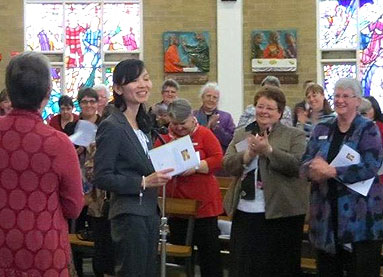 The Future
My great passions in Mercy are to work with families to support children to receive every chance of education and to live in a safe and loving environment. I will start a full-time ministry with McAuley Community Services in Melbourne for Women in September, as a Crisis Support Worker at the emergency shelter for women and children escaping family violence.
Since I joined religious life, I have been challenged with a question, "why are you joining religious life, as religious life is dying and/or religious congregations are aging"? It is a reality, but it does not mean my desire for religious life is not being nurtured! Catherine McAuley said, "It began with 2, Sister Doyle and I". In the homily given by Fr Brian Traynor CP, he spoke of the universe being born from a dying star which then created the earth that each one of us now shares. The dying or diminishment of religious life (in Western countries) must give new life, the reducing in numbers can be a reminder for us that it is not that with many we can do everything, but it is with God we can do everything. Therefore we need to learn to trust in God's constant unfolding love and to trust in God's providence!
Messages to Mai Nguyen-Doan rsm