Archived News Item
Join in the McAuley High Tea Appeal 2017
June 30, 2017

McAuley Community Services for Women (MCSW) are calling for people to join their McAuley High Tea Appeal 2017. The annual appeal gives you the opportunity to host a high tea to support women and children who are escaping family violence and homelessness.
Funds raised from the high tea will go toward supporting the essential services offered by McAuley Community Services for Women in Victoria.
Since the start of 2017, MCSW's 'McAuley Care' (Victoria's only 24/7 safe house) has assisted 110 women and 118 children. Of these, 17 women were pregnant, or they arrived with new born babies; 75 women had diagnosed depression or anxiety; 62 women were granted an intervention order while at the safe house; 51 women either went onto refuge while 20 went to family and friends.
MCSW's McAuley House in Footscray, is the first of its kind in the State – purpose built accommodation for women who are homeless. In addition to housing these women, McAuley House provides a hub for community services that that reach over 100 women each year.
When a woman arrived at the House of Mercy in Dublin, she was welcomed with a cup of tea and a chat to see what assistance she needed. Today, 190 years later, McAuley Services for Women are doing the same thing with women who go to their family violence crisis program, McAuley Care; their homelessness service McAuley House; and their employment service McAuley Works.
So join in the McAuley High Tea Appeal. To find out more information and to register your High Tea, visit http://mcauleyhighteas.gofundraise.com.au/

Get started with the 'Perfect Scones':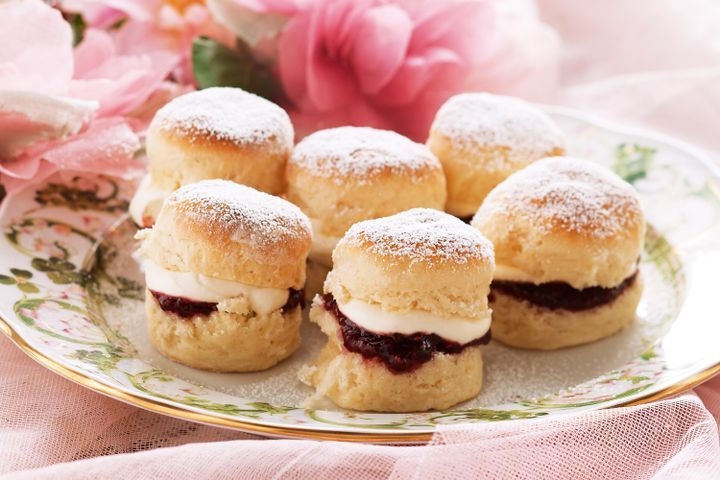 Ingredients
2 1/4 cups self-raising flour
2 tablespoons icing sugar mixture
1/4 teaspoon salt
40g butter, chopped
1 cup milk
1 tablespoon milk, extra
Raspberry jam, to serve
Double cream, to serve
Icing sugar mixture, extra, to serve
Method
Step 1
Preheat oven to 220C/200C fan-forced. Grease a 22cm (base) round cake pan. Lightly dust with flour. Position the oven rack in the top half of the oven.
Step 2
Sift flour, sugar and salt into a bowl. Rub in butter with fingertips. Make a well in centre. Pour milk into well. Using a flat-bladed knife, gently stir until dough just comes together. Turn dough out onto a lightly floured surface. Knead gently for 30 seconds or until just smooth.
Step 3
Press dough into a 2cm-thick round. Using a 5cm round cutter, cut out scones. Press leftover dough together. Repeat to make 12 scones. Place scones, just touching, in prepared pan. Brush with extra milk. Bake for 14 to 16 minutes or until golden (see note). Sandwich with jam and cream and dust with icing sugar. Serve.
Recipe from Taste.com.au
CLICK HERE TO RETURN TO JUST MERCY 
30 June 2017