Archived News Item
JOIN IN EARTH HOUR 2016
March 9, 2016
The Earth Hour Story
Earth Hour began in Sydney in 2007, with 2.2 million people and 2,100 businesses participating in the 'lights off' event. Just one year later, Earth Hour became a global phenomenon with over 35 countries participating, and an estimated 50-100 million people.

In recent years, Earth Hour has been celebrated in over 172 countries and over 7000 cities and towns worldwide. The symbolic hour has grown into the world's largest grassroots movement for the environment, with beyond the hour projects and initiatives happening throughout the year.
Earth Hour is a great home-grown success story: an Aussie campaign designed to draw attention to tackling global warming and get people talking about what we can do to help.
In Australia, Earth Hour is something that really brings communities together, with 1 in every 3 Aussies taking part. In 2011, the plus sign was incorporated into the Earth Hour Logo to signify that the campaign is more than just an hour, and great positive happenings in several countries inspire us all to go beyond the hour, to take steps to conserve, protect and enjoy the planet; to celebrate the possibility of a better future.
What's new in 2016?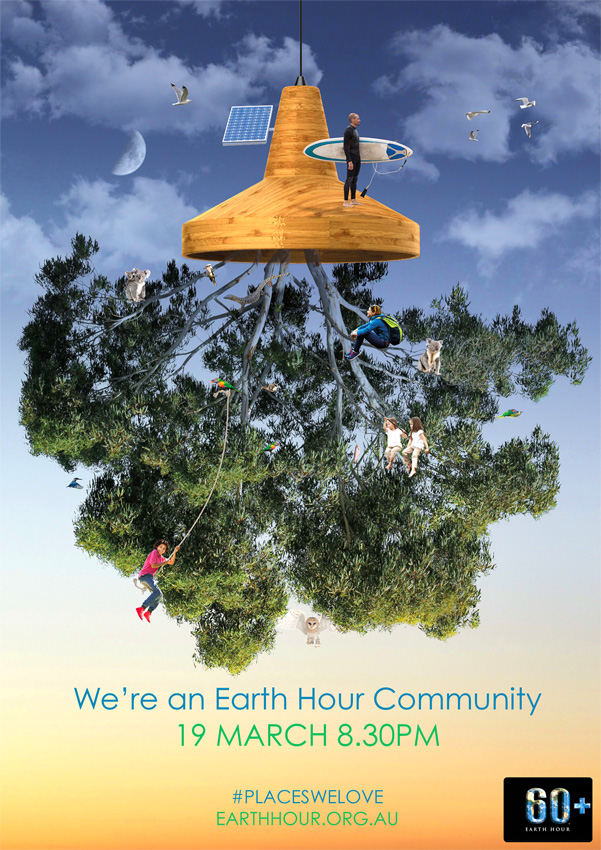 In 2016, Earth Hour in Australia will celebrate the places we love that make our outdoor lifestyle and the Aussie way of life so great: our breathtaking beaches, forests, reefs, national parks, snow-capped mountains, rivers and farmland which uniquely distinguish Australia as the "lucky country". Yet these iconic places are under threat from rising temperatures and more extreme weather. Small changes to our climate as a result of increased carbon pollution are messing up the delicate balance of nature that we enjoy so much.
Rising temperatures will drive coral bleaching on our beloved Great Barrier Reef and a decline in snow season length and coverage in the Australian Alps, while rising sea levels are expected to erode our beaches and coastlines.

On Saturday March 19, millions of Australians will take part in Earth Hour from 8:30-9.30pm to show their support a low pollution, clean energy future, one in which we can continue to enjoy the best of nature and our great Aussie outdoor lifestyle. Families, friends, schools and communities across the country are encouraged to register their support at earthhour.org.au in advance of the global event, and reconnect with nature by heading outdoors together on Earth Hour night to celebrate the places you love – whether it be a gathering or dinner at a community garden, national park, beach, river or even your own backyard or balcony!
Look to March 19 2016. Plan an event – with a few others or as part of a crowd. Celebrate our connectedness as a global community, thank God for the good will, courage and experience of millions who have gone beyond the hour. Together, we hope to turn the inspiration of one hour into the actions of every hour.
For more ideas and information visit the Earth Hour website HERE