Archived News Item
Jess's Challenge
October 28, 2013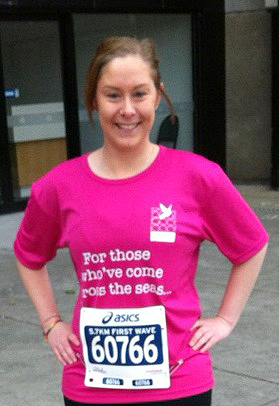 On Sunday 13th October on a freezing cold and rainy day I took part in the Melbourne Marathon. I proudly wore my bright pink Run4Refugees t-shirt and participated in the 5.7km run (actually, it only ended up being a 3km run due to the weather on the day). So, why did I run? And, why did I run for refugees?
I have been asked this question a few times over the past couple weeks as I have been "training" for my run and attempting to raise money for much needed funds for the Asylum Seeker Resource Centre (ASRC). Its true – for someone who hates running as much as I do, some people thought I was a little crazy when I told them I was running. Some thought I was even crazier when I told them I was doing it to raise money for refugees! I knew it was a bit of a "hot potato" issue, but I was going to do it anyway. I thought, "Well, why not?"
To be honest, you would not have heard me saying something like that 12 months ago. Before I attended one of the Mercy Mission Focus nights held at Alphington (which happened to be focused on refugees and asylum seekers) and before I began doing my own research on this "touchy" issue, I admit I was a "hater". Before I sought out more information on this issue all I knew about asylum seekers was what I saw on the news – "The Boat People" and how they were stealing all of our jobs and taking up space in our small country.
I'm not proud of my ignorance, looking back. But to cut a long story short, I signed up to receive the weekly/monthly newsletter from the ASRC and that is how I found out about the Run4Refugees. I knew there were plenty of other charity groups running in the Melbourne Marathon, but I liked the idea of this one because of the extreme lack of government funding and the ignorance and lack of information on this issue. They receive no federal government funding and very minimal state government funding. The ASRC rely almost completely on donations. So, I thought I would do my bit and see if I could help them out by raising a little bit for them.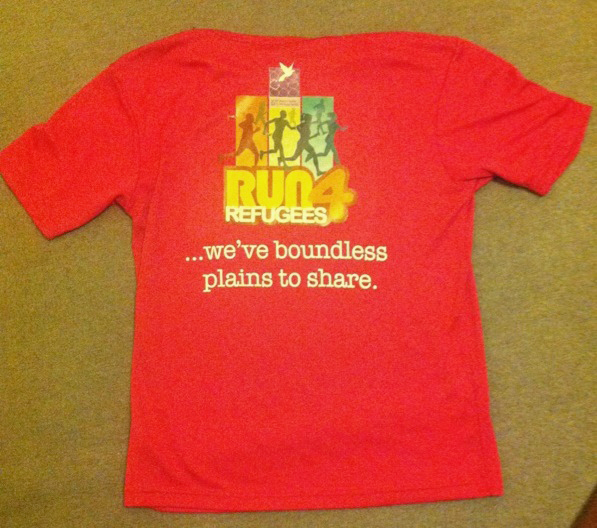 I set out to raise $1,000 (which I didn't think I would reach) and have currently risen close to $2,000. I cannot take all the credit for this. This is thanks to all the generous and kind people I am connected to through my family and friends, work colleagues, friends of friends, my fellow local parishioners, Sisters of Mercy, and some random people on Facebook who saw my link and decided to check out my fundraising page.
It just goes to show that lots of little acts of kindness (such as in the form of donations) can add up to something big and wonderful that can help a lot of people. Social media also helps as well! I also liked the idea of "doing something today not tomorrow". I believe that together we can make a difference, one step at a time, one run at a time (no matter how slow we go)! And it just goes to show that education and knowledge, like on the issue of asylum seekers, is power! If only this side of the story could be shown on the seven o'clock News instead of "The Boat People".
Messages to Jessie Llewellyn