Archived News Item
IT'S THAT TIME AGAIN
August 25, 2016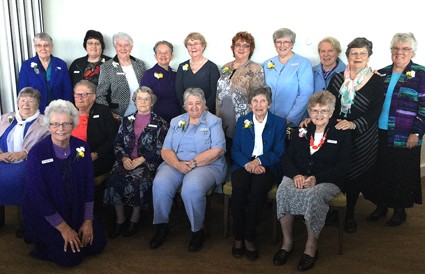 A combined 1,200 years of commitment to life as a Sister of Mercy was celebrated last Saturday, August 20 in Broadmeadow, Newcastle. This commitment has contributed to the life of the church and wider community both nationally and internationally in areas of justice, education, advocacy, health and aged care and pastoral services.
The celebration marked the Jubilee of the years of Religious Profession of twenty two Sisters, twenty of whom are members of the Central B Community of the Institute of Sisters of Mercy of Australia and Papua New Guinea. The Jubilarians were Sisters Sharon Price, Chris Austen and Deslie Falls [40 years]; Sisters Barbara Bolster, Margaret McGrath, Deirdre Gardiner, Ailsa Mackinnon, Margaret Collis, Bernadette Mills, Judith Murphy and Mary Gallagher [50 years]; Rosarii O'Connor, Joan Adams, Ann Grennan, Maureen Clarke and Shirley Dallas [60 years]; Josephine Hoffman, Hazel Baker, Rita Crowley and Juliana Dwyer [70 years]. They were joined by guest Jubilarians, Berneice Loch (Institute Leader) and Berenice Kerr (Community Leader, South B).
The day began with Mass concelebrated by Fathers Brian Mascord and John Bosman MSC. and during the ceremony, the Sisters renewed their vows. As Sisters of Mercy, of 40, 50, 60 and 70 years since their first profession, the Jubilarians have faithfully followed Jesus by laying down their lives for others.  Fittingly the Gospel Reading was from John (15: 11-17): 'No one has greater love, than this, to lay down one's life for one's friends'.  In a spirit of Mercy all of these Sisters have sought in all parts of their lives to extend to others a love only God can offer, a love seeking to emulate the profound example given to us by the founder of the Sisters of Mercy, Catherine McAuley.
The event was organised by Mary Geason (Central B Community Leader) and following the Mass, all continued the celebrations with a very pleasant lunch and much sharing of memories.