Archived News Item
Irish President Visits Mercy International Centre
September 27, 2014
The highlight of the week of celebrations for the 20th Anniversary of the Mercy International Association was a visit and address (Thursday 25th) by the President of Ireland,
Michael D Higgins. He was accompanied by Sabina Higgins. His inspiring address was greeted with a standing ovation.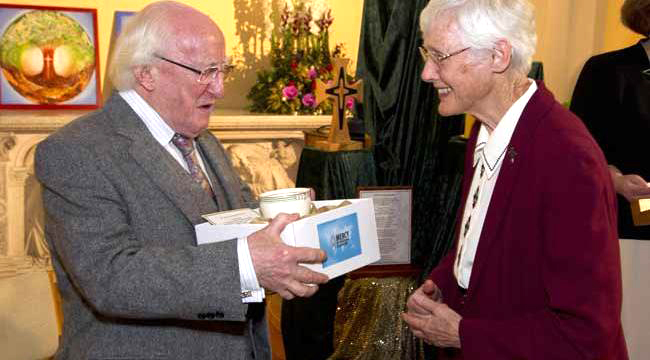 As a memento of his visit to Mercy International Centre yesterday, President Higgins received a cup and saucer once owned by Catherine McAuley. This gift was presented to the President by his cousin, Gabrielle Ryan rsm (Brisbane Congregation) – pictured here. The cup and saucer were accompanied by a carefully prepared card and explanation of the symbolism in Mercy circles of the 'good cup of tea'. Images and further news can be read here.
A media release on the presidential visit was prepared by Srs Mary Reynolds (Executive Director MIA) and Adele Howard (Communications Consultant MIA) and distributed to the Irish Media yesterday. The release can be accessed here.
For full coverage of the celebrations go to www.mercyworld.org
Reports on the visit of President Higgins appeared in the following publications:
Irish Times. Article: President praises contribution of Sisters of Mercy
Catholic Ireland. Net. Article: President pays tribute to Mercy charism