Archived News Item
Invitation to AGM of Mercy Works Inc.
October 15, 2008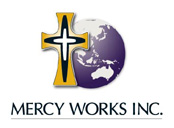 All sisters and members are warmly invited to attend the Annual General Meeting of Mercy Works Inc. in North Sydney on Wednesday November 19, 2008.
The AGM will also provide an opportunity to hear about the work of Melbourne Sister of Mercy, Maureen Sexton, and Sydney Rotarian, Mr Howard Sullivan. Both are involved in projects supported by Mercy Works Inc.
Since 2003, Maureen has been working in the remote Western province of PNG supporting West Papuan refugees, while Howard has played a major role in the implementation of a major water project in the mountainous district of Fohorem in Timor Leste.
Mercy Works Inc. supports the local and overseas relief and development activities that are part of the vision and mission of the Institute.
Please RSVP by October 29 to Bridie Rothwell Ph: (02) 9564 1911 or Email.