Archived News Item
INTRODUCING OUR EARTHSONG COUNCIL MEMBERS
March 9, 2016
EarthSong is a centre for ecology and spirituality in Melbourne and is sponsored and supported by a number of Religious Orders.
The EarthSong Educational Project emerged in 2003 from a conversation amongst members of several Religious Congregations wanting to explore the nature and power of the new universe story and its implications for an integral spirituality. The project was launched at Pipemakers Park on the banks of the Maribyrnong River on 27th July 2003. In 2008 EarthSong: Earth Literacy and Earth Ethics Association became an incorporated body, governed by the EarthSong Council.
The Institute of Sisters of Mercy of Australia and Papua New Guinea (ISMAPNG) sponsors EarthSong each year by providing financial support, council members and other support on a needs be basis. The Institute Leadership Team have recently appointed Polly Caldow and Margie Abbott rsm to the EarthSong Council for a 3 year term.
Margie Abbott rsm
Margie moved from Adelaide to Geelong two years ago and has a background in education; theology; spirituality and psychodrama. Margie is passionate about Care for Earth and over thirty years has been involved with Sisters of Mercy Eco groups such as Environmental Sabbath and Eco Justice! Margie is a trainer for Generation Waking Up and a member of the global community Pachamama Alliance. Generation Waking Up is a global initiative working to ignite a generation of young people to bring forth a thriving, just, sustainable world. Pachamama Alliance offers people the chance to work on creating a sustainable future. Margie's latest retreat theme is "Earth Centre Stage: Nurturing a warm up to Care for Earth and each other."
Polly Caldow
Polly works part time in the property team for the Institute. She has been a member of the Boards of Mercy Health and McAuley Community Services for Women. She continues to sit on the Mercy Health Quality Committee and the Wise Foundation. Polly's passion for Earth and EarthSong, stems from her time as CEO of The Body Shop – an activist organisation (as well as a retailer) committed to positive social and environmental change.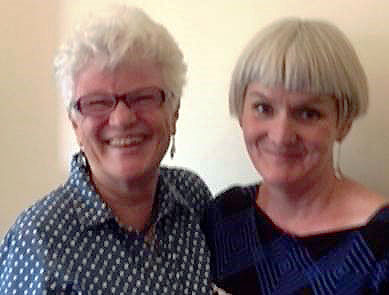 Both Margie and Polly see part of the responsibility as Council members as keeping the Institute Leadership Team and all connected in Mercy in touch with the EarthSong program for 2016.
Because this is the Year of Mercy declared by Pope Francis and with the opportunity to study Laudato Si –On Care for our Common Home as well as participate in the Mercy International Reflection Process they offer a choice of resources provided by EarthSong.
A visit to the EarthSong website will offer you a free monthly newsletter. EarthSong also publishes a Journal twice a year and it is available electronically and can be downloaded onto an iPad very easily and cheaply from HERE. The program for 2016 is also available on the website and for anyone living in and around Melbourne there are sessions available throughout the year. Margie and Polly invite you to subscribe to the journal and encourage everyone to take a look in the near future.
Messages to: Margie Abbott rsm
Polly Caldow