Archived News Item
Integration and Sustainable Living
December 7, 2016
December 5, 2016
Margaret Adams rsm spoke of her experience of living sustainably for the launch of the Institute's Sustainable Living Policy on November 4, 2016.
Listen to her words by clicking the play sign below.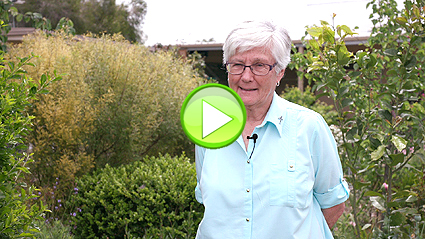 The ISMAPNG Sustainable Living Policy calls us all to contribute to living in an integrated and sustainable way. This I have found to be a wonderful way of life and am happy to share a little of the way this is brought about in our daily life.
At the end of 2005 Sr. Janet Lowe and I moved into this house here in Findon SA. Having lived in the outback for a number of years we are very conscious of the need to conserve water particularly in SA. We decided to put our resources into water and energy conservation, and to develop a sustainable garden.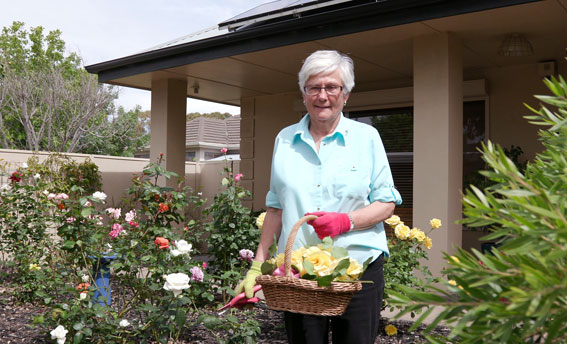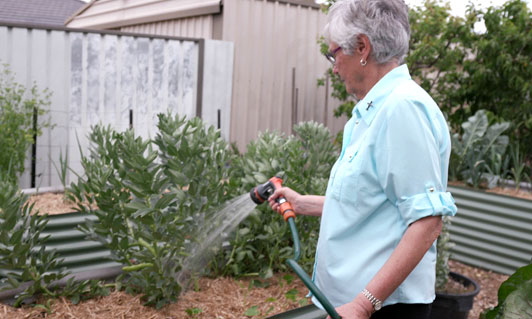 One of the first purchases we made for our new house was 4 rain water tanks each holding 1,000 litres. Since then we have had two more sets of tanks installed so we now have a combined amount of 16 000 litres. The large expanses of lawn in both the front and back gardens have been removed and the area planted with native and water-wise plants    Both areas have drip irrigation systems. In addition we have 4 raised vegie beds and grow both summer and winter vegies. We keep rainfall records and hand water the vegies when necessary. The garden beds are mulched to conserve water. We have planted stone fruit trees, dwarf apples and a pear, a quince, an almond, an orange, a lime and lemon trees. We also enjoy potted plants and have many decorative plants around the house and carport. So we need our rainwater tanks!
The house has a large reverse cycle air conditioner. By the coming of our second winter we were concerned about the energy requirements for this aircon and so we had a small gas heater installed in the lounge to keep us warm of an evening rather than use the reverse cycle. We have also had 28 solar panels installed on our roof and it is music to our ears to hear the inverter transferring the solar energy to the grid.
Like many other local council areas we are supplied with a large yellow lidded bin for recyclable materials, a green lidded bin for green waste and a smaller blue lidded bin for rubbish. We recycle tins, glass, bottles and jars, clean paper and cardboard, hard plastics. The 10c deposit bottles and cartons are saved then later taken to the recycle centre for refunds. Our green bin takes any organic materials that do not go into our 3 compost bins that make our garden compost. We save used batteries and take them to Battery World. We take used printer cartridges to the shopping centre for refilling. We have an electronics receiving centre close by for disposal of any electronic goods. Annually the local council provides a hard-waste collection for any waste not acceptable for landfill. We save our soft plastics and packaging for collection at Coles supermarket.
We are well aware that many sisters are living as sustainably as possible and my hope is that this Sustainable Living Policy will encourage many others to take their first steps towards sustainably living.
Messages to: Margaret Adams rsm
Acknowledgements:
Video clip taken from the livestream video for the launch of the Institute Sustainability Policy. Produced by Adele Howard rsm.
Photos – Adele Howard rsm