Archived News Item
Institute supports interfaith studies for young women
June 8, 2006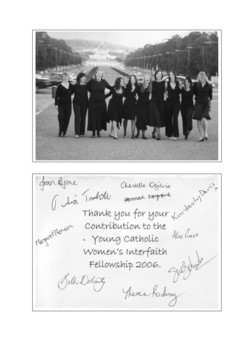 Graduates of the inaugural Young Catholic Women's Interfaith Fellowship recently sent a letter of gratitude to the Institute for providing them with the financial and moral support to undertake studies in the crucial area of interfaith relations.
The Young Catholic Women's Interfaith Fellowship is an initiative of the Australian Catholic Bishops Conference (ACBC) under the auspices of the Commission for Australian Catholic Women (CACW).
The Fellowship demonstrates a commitment to the formation of young women in leadership, particularly in the area of interfaith relations.
In financing the Fellowship for 2006, CACW received support from 20 religious institutes and Catholic Church agencies.
The Institute of the Sisters of Mercy of Australia, through its Plenary Council, agreed to fund one of the ten fellowships in 2006.
The Fellowship comprises a Graduate Certificate in Interfaith Relations from the Australian Catholic University, leadership and media training, and faith formation.
Having taken leave from their positions to study in Canberra between February and May this year, the ten young women are now returning to their communities to put into action their newly acquired skills and knowledge.
Participants in the Fellowship for 2006 included Beth Doherty, Sue Schulz, Therese Rodway, Margaret Thomson, Fran Byrne, Chantelle Olgilvie, Julia Trimboli, Kimberly Davis, Alice Priest, and Hannah Norgrove.
For more information about the Fellowship visit the CACW website.