Archived News Item
Institute awaiting PM response about David Hicks
September 14, 2006
About a month ago, a letter written by Sister Caroline Ryan, on behalf of the Institute, was sent to Prime Minister Howard, Attorney-General Ruddock and Minister Downer expressing concern about the continued detention of Australian citizen, David Hicks at Guantanamo Bay. To date, there has been no response to this letter from the Prime Minister's office or the offices of the other two ministers. The Institute leadership encourages all sisters to contact their local MPs about the matter. To download a list of Federal MPs click here.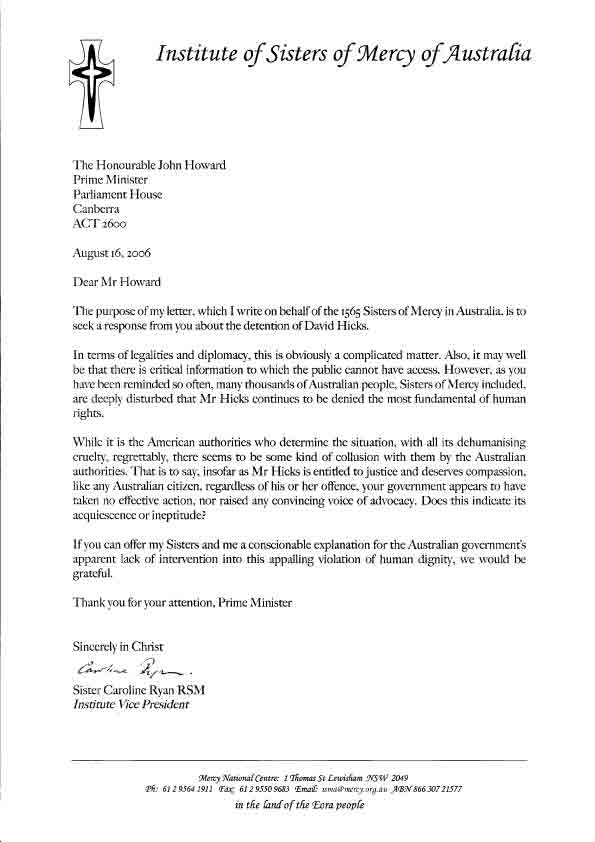 LETTER TO PRIME MINISTER, JOHN HOWARD
The Honourable John Howard
Prime Minister
Parliament House
Canberra
ACT 2600
August 16, 2006
Dear Mr Howard,
The purpose of my letter, which I write on behalf of the 1565 Sisters of Mercy in Australia, is to seek a response from you about the detention of David Hicks.
In terms of legalities and diplomacy, this is obviously a complicated matter. Also, it may well be that there is critical information to which the public cannot have access. However, as you have been reminded so often, many thousands of Australian people, Sisters of Mercy included, are deeply disturbed that Mr Hicks continues to be denied the most fundamental of human rights.
While it is the American authorities who determine the situation, with all its dehumanising cruelty, regrettably, there seems to be some kind of collusion with them by the Australian authorities. That is to say, insofar as Mr Hicks is entitled to justice and deserves compassion, like any Australian citizen, regardless of his or her offence, your government appears to have taken no effective action, nor raised any convincing voice of advocacy. Does this indicate its acquiescence or ineptitude?
If you can offer my Sisters and me a conscionable explanation for the Australian government's apparent lack of intervention into this appalling violation of human dignity, we would be grateful.
Thank you for your attention, Prime Minister
Sincerely in Christ,
Sister Caroline Ryan RSM
Institute Vice President