Archived News Item
Inspiring film in time for World Refugee Day
June 20, 2008
Hope is an inspiring film that works on many levels. It is a universal tale of family, migration and the search for "a better life". Hope is screening at a number of cinemas across Australia from June 19, in time for World Refugee Day (June 20), which is part of Refugee Week (June 15-21).
400 people set out on a boat. Only 7 made it to Australia. Amal Basry was one of them.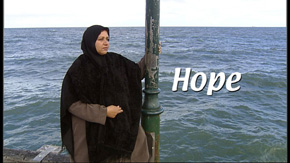 Amal Basry (pictured right) watched The Titanic at a cinema in Baghdad the night before she fled Iraq. 18 months later the people-smuggling boat she was on sank between Indonesia and Australia. 353 people drowned. Amal survived by clinging to the floating body of a dead woman for 22 hours, convinced that her son was dead and she was the only person left alive. Now Amal fights to ensure that the disaster is not forgotten, to reunite her family and "find what it was I lost in the ocean…"
Hope is screening at a number of cinemas across Australia from June 19 for a limited period. It is believed that early interest by patrons will encourage cinemas to extend the screening period.
Excerpts from letters and emails received after the premiere of Hope at the Melbourne International Film Festival included:
"We expected to come away shamed once again by our country's attitude towards people who come here looking for protection, and while that shame remains, we found ourselves marvelling instead at Amal's beautiful life, at someone whose generous spirit seemed able to transcend her circumstances."
"The hope of Hope is that stories such as Amal's will continue to be told – not for the sake of telling – but in the hope that through their telling something might change – if not today, then maybe tomorrow."
Find out more about Hope. Visit the official website which includes background information about the background to the SIEV X disaster, a study guide and cinema screenings.
From: Specific Issues Committee, Asylum Seekers and Refugees (Sisters Sally Bradley, Claudette Cusack, Geraldine Mugavin and Lorraine Phelan). The Committee warmly invites your response to the article or the issue.
Email: asylum.refugees@mercy.org.au
Contact: Carmel Heagerty RSM, Institute Justice Co-ordinator
Email: Institute.Justice@mercy.org.au