Archived News Item
Indigenous woman sends congratulatory message to Mercy sisters
December 21, 2006
Louise Campbell, a member of the Sisters of Mercy NSW Aboriginal Network, has sent a congratulatory message to all Sisters of Mercy on the occasion of the 175th anniversary of foundation.
Louise writes:
"I just thought I would send my best wishes to all the Sisters of Mercy for their 175 years of hard work. I would also like to pray that their continued work be one that inspires many people and groups. The Sisters of Mercy, to me, have been a group of dedicated and strong women who lift me up in times of sadness and hopelessness, and as an Aboriginal woman, provide me with awe inspiring affirmations of love, strength and hope.
"Thank you to all the sisters that I have been a part of, especially the Mercies of NSW and indeed Sister Patricia Adams RSM of which I love very, very much."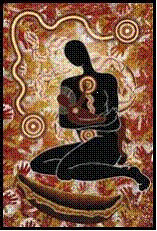 Creator God, you are always present with us.
When our people were living in this great south land
with no contacts your Spirit moved with us constantly.
Our Mothers and Grandmothers, as holders of the fire nurtured us in the Dreaming
and our young ones learned to respect life and each other.
Out of love and to help us to live in the tensions of life
You sent Jesus to live here in our broken world.
Mary his Mother accepted what you asked of her to be Your Mother
just as our mother ancestors stayed true the Coolamon, faithful in their journey of life.
The Coolamon in its holding of new life, food and water nurturing responsible relationships.
So to the Mercy Sisters hold true their nurturing of beautiful relationships with us Aboriginal people.
For this we give thanks and pray to stay in Your Love
Photo: This painting of the Madonna was created by Louise's brother Richard who was also responsible for the Aboriginal Stations of the Cross which hang at the church at La Perouse (NSW).
From: Sister Marie Butcher RSM (Local Communications Facilitator)
Email: mbutcher@mercy.org.au