Archived News Item
Indigenous issues and young people
May 27, 2008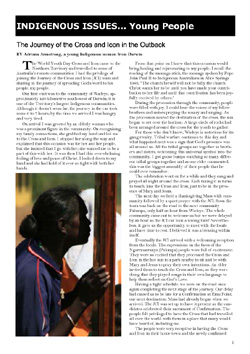 Adriana Armstrong, a young Indigenous woman from Darwin, recently travelled with the World Youth Day Cross and Icon through the outback. Adriana's reflections are reproduced in a backgrounder prepared by the Institute's Specific Issues Committee, Indigenous Concerns. This backgrounder also includes information, reflection and action ideas on the topic of Indigenous issues and young people.
Some facts about being an Indigenous young person in the Northern Territory
(Source: www.action.nt.gov.au)
Education: The gap
On average, Indigenous students achieve lower literacy and numeracy levels than other students. In the Northern Territory in 2006, under 40% of Indigenous students achieved the Year 3 reading benchmark, compared with 87% of non-Indigenous students. In 2006, only 13.5% of Northern Territory Certificate of Education recipients were Indigenous.
Health: The gap
Indigenous children in the Northern Territory are more than twice as likely as non-Indigenous children to die before the age of one. Life expectancy at birth is 16 to 20 years lower for Indigenous Territorians than non-Indigenous Territorians. Non-communicable diseases, such as heart disease, diabetes and cancer account for almost 80% of the gap between Indigenous and non-Indigenous life expectancy, with poor access to primary health care services also responsible for disparity.