Archived News Item
Indigenous health: helping to close the gap
October 30, 2010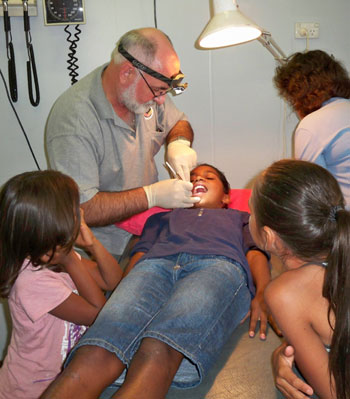 For members of the Ngallagunda community at Gibb River Station in the Kimberley region of Western Australia, visiting the dentist is a rare event.
In this remote Indigenous community there is no resident dentist and months can pass before one visits. As a result, dental health among children and adults is often poor, affecting overall health and well-being negatively.
"People have suffered from acute toothache and other dental problems for years," says Mary Jane Lynch RSM, a nurse who has been working at Gibb River Station since 2001.
This year Mercy Works Inc. was pleased to play a part in helping the Gibb River Aboriginal communities gain better access to dental health care by transporting dental equipment to the local health centre.
Mary Jane reports with enthusiasm that this equipment has already been used on two occasions by the Kimberley Dental Team who fly in and out of remote communities providing crucial dental clinics.
For Mary Jane, the dental health care available to the Gibb River community this year has been "a dream come true".
You can support Mercy Works Inc.'s community development programmes online or by contacting us on (02) 9564 1911.