Archived News Item
In the Spirit of Catherine
October 27, 2014
In previous years, the staff of Mercy Services in NSW have celebrated Mercy Day in a number of ways. We have toured the historic Singleton Convent, had Mercy Sisters as guest speakers and held a staff picnic. This year, staff from our Newcastle, Lake Macquarie and Singleton sites celebrated Mercy Day on Thurs 25/09/14 at Murrook Cultural Centre. Murrook is located about 20 minutes from Newcastle and is owned and operated by the Worimi Land Council.
Mercy Service management decided that an Indigenous focus was a very appropriate way to mark Mercy Day 2014. There are significant numbers (5%) of Aboriginal and Torres Strait Islander people living in some parts of the Hunter in which Mercy Services operates. It is true that the number of Aboriginal and Torres Strait Islander people is fairly small among the aged and disability clients of Mercy Services. The same is not the case for our Community Transport and McAuley Alcohol & Other Drug Services – where Aboriginal and Torres Strait Islander people make up about 10% of clients.
The staff at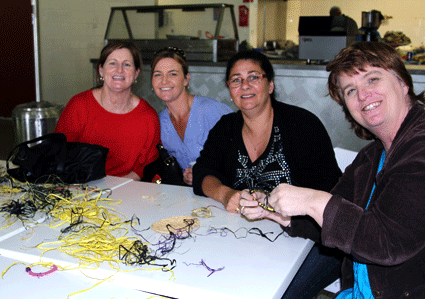 Murrook took a holistic approach with Mercy Services staff. They not only explained and demonstrated their culture – they also gave us a number of ways of experiencing their culture.
Some of us had a rigorous walk through the Stockton Bight sand dunes to see an ancient stone tool site. Some of these stone tools have been found to have originated in other places across the country – including the Kimberley region. According to our guide the different tribes would trade goods so it is fascinating to imagine how many times the Kimberley tools were traded and for what they might have been traded before they found a resting place near modern day Newcastle. We then struggled to climb the tall sand dunes. Our shortness of breath as we trudged through the sand broke into laughter as one of our staff was heard to pant "I think I can, I think I can" – and she could make it to the top. Once at the summit of these enormous dunes we enjoyed a fantastic view of the ocean and Newcastle with a cooling breeze off the sea.
There were also a number of other activities that we had a chance to try including:
Spear throwing;
Painting;
Dancing;
Didgeridoo playing; and
Weaving – baskets and wrist bands.
The day at Murrook also left us reflecting that if Catherine McAuley was establishing the Sisters of Mercy in this place and at this time she would have first spent time with Australia's First People. Catherine had the good sense and humility to seek out the views and skills of experts. We see this in her travel to France to learn the best educational techniques of her time to put at the service of those she hoped to educate. If she were in Australia we think Catherine would have wanted to learn from Aboriginal and Torres Strait Islander people and work in partnership with them. We think Catherine would have been drawn to Aboriginal and Torres Strait Islander people because she also knew what it was to be the oppressed and marginalised people in your own land. This was after all the position of Catherine and other Irish Catholics in the late 1700s. There would have also been a spiritual element to Catherine's seeking out Aboriginal and Torres Strait Islander people. She would have found that her own desire for closeness with God would draw her to those for whom God has a preferential option. Catherine's engagement with Aboriginal and Torres Strait Islander people would have come from her whole person – cultural, intellectual, social and spiritual.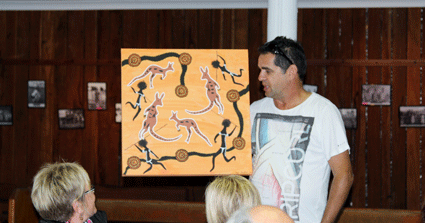 During the day one of the Murrook staff put out the following challenge: "As an Aboriginal I have taken on your language, lifestyle, social structure but what impact has Aboriginal culture had on you? There are people from overseas who visit Australia and leave with a deep respect and some knowledge of Aboriginal culture so why is it that many Australians are ignorant or hostile to learning from this country's First People." By the end of the day we all felt we had a greater appreciation for the culture of the Aboriginal people of this land. For instance we will be reminded of the Dreaming stories when we see and hear the Black Cockatoo. We will look back fondly on our experiences with Aboriginal culture. Moreover we will remember the warm welcome we received and the generous sharing of our Aboriginal hosts. A significant way to celebrate Mercy Day and we will take all this back to our Mercy workplace, to our families and to the other settings of our lives.
Some comments of our staff were:
Linden: It was a fun day and everyone mingled which was great.
Ruth: All to whom I have spoken to today have said they did enjoy the day. Only negative feedback was shortage of food. We did go down the back with boomerangs and spears but were unsuccessful with the hunt although we did learn a lot about the trees and the natural medicines.
Sue: It was a great day and the walk was fantastic
Messages to: Lawrie Hallinan
Mercy Services -Tighes Hill