Archived News Item
IN THE SERVICE OF MERCY
June 1, 2015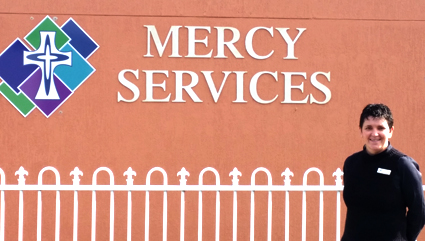 My connection to, and association with Mercy began in December 1998 when I re-entered the workforce as a community care assistant with Mercy Community Services.
Our organisation then was vastly different to that of Mercy Services in 2015 as it has grown and developed each year in programs, clients and staff. With some trepidation (all of my previous employment was in the banking sector!) I set out to provide in-home care and assistance to the frail aged of our local community, working with Mercy's Community Aged Care Packages, and I very quickly realised this role was one that I would find rewarding and long term for me.
Our organisational values of Service, Respect, Justice, Care and Unity shine as strong in 2015 as they did for me setting out on my own Mercy journey in 1998. These values parallel my own personal values and formed the foundations of our work with the packages program. I worked in Community Aged Care packages for the next 8 years, during which time I studied and completed my Certificate 3 in Home and Community Care (AIN) and Certificate 4 in Home and Community Care. I also completed a Diploma in Frontline Management and this qualification paved the way for me to move into a service coordination role at Mercy Services in 2006.
In this role I coordinate services for aged clients and those younger with a disability, providing in-home care with the Home Support Program in the areas of personal care, domestic assistance, social support, linen service and medication monitoring. Mercy Services has provided me with further opportunities for study and I have completed an Advanced Diploma in Community Sector Management and Certificate 4 in Training and Assessment.
In March 2014 I participated in the two-day workshop, 'Mercy Story, Then and Now'. This workshop enriched my knowledge and experience of Mercy and 'rekindled' the flame of Catherine in my day to day tasks and work. Catherine McAuley was brought to life for me over the two days of this workshop and when the opportunity came to apply for the Mercy Leadership Program and Dublin Pilgrimage, I completed my application with hope and anticipation. I was delighted to learn soon after, that I had been granted the opportunity to participate in this program in April 2016. This experience will provide me with the inspiration and renewal to continue my work in the name of Mercy. The opportunity to feel the spirit of Catherine McAuley in the 'sacred' sites of the Dublin pilgrimage and to meet and interact with other participants from Mercy ministries around the world, will be a once in a lifetime experience for me and will renew and reaffirm my own journey in Mercy.
2015 sees me in my seventeenth year of employment with Mercy Services. My daily interactions and work with clients and staff of Mercy Services allow me to witness Mercy's values in action, and I have a strong belief that this sets us apart from other service providers as we bring the spirit, resilience and intention of Catherine McAuley to those clients we serve. As a service sector we are facing daily change and uncertainty and as we move into the future, it is more important than ever to ensure Mercy values and charism remain alive in our work and our staff. To quote Catherine from her letter to Sr.de Sales White: "The simplest and most practical lesson I know…is to resolve to be good today, but better tomorrow. Let us take one day only in hands, at a time, merely making a resolve for tomorrow, thus we may hope to get on taking short, careful steps, not great strides." I have a strong belief in the Mercy work that we carry out each day, both individually and as a team. The clients we visit and assist each day are the drive and motivation for our work, and we have an opportunity to make a real difference in the lives of our Mercy clients.
My longer term plans within Mercy Services are to pursue further tertiary study (Bachelor Degree of Applied Social Science/Degree in Community Services Management) and I aspire to a more senior leadership role within the Mercy organisation. I see myself involved with, and passionate about, the work of Mercy up until the conclusion of my working life.
Messages to: Jane Grach