Archived News Item
In the Community
June 22, 2012
So many people support Mercy Works in so many different ways that it would be almost impossible to thank everyone involved. We wanted to draw attention to some quiet achievers who are vital to Mercy Works.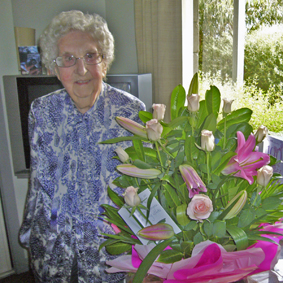 Our oldest supporter – Sylvia Muirhead
Sylvia may well have the longest association with Mercy Sisters of anyone in Australia, having recently celebrated her hundredth birthday. She still lives an active life, based in the Corpus Christi nursing home in Clayton. Her younger sister, a spring chicken of 97 is also there.
Sylvia was born in 1912 in Castlemaine, Victoria and attended St Gabrielle's Mercy School. The school is no longer around, but for Sylvia it began a lifelong commitment to helping the Mercy Sisters whenever she could. During the Depression years, Sylvia's mother moved their family to Melbourne, but to this day, Sylvia still thinks of Castlemaine as home. For over 50 years Silvia held the same job, as secretary to the manager of hosiery mill.
Sylvia on her hundredth birthday
Sylvia's niece is Sr Patrice Orchard who, as a Sister of Mercy, worked in Pakistan for over 10 years. Patrice's earliest memory of Sylvia is being taken shopping. 'As young child I loved going shopping with Aunty Silvia because she always bought me a cup of tea and currant bun' said Patrice.
When Patrice moved to Pakistan, Sylvia was one of her strongest supporters, not just personally, but through continued generosity to the program there and elsewhere.
'She recognised how important our work there was, and how important it was for me to go. Most people would describe Silvia as a friendly but private person, but she has such a generous spirit, continually supporting Mercy Works over the years in our programs.'
Sylvia celebrated her 100th birthday in her home with her sister and nurses and staff. She was very proud to receive her telegram from the Queen, but it was the bunch of flowers from Mercy Works that brought a tear to her eye.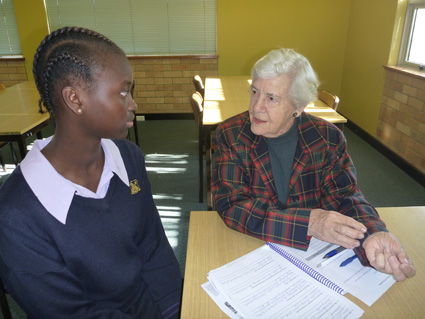 A passion for helping – Rene Thomson
At 86, when most people have been enjoying a slower pace of life for decade or more, Rene Thomson remains incredibly busy. She has been part of the Mercy Connect program since it began over four years ago. She grew up in Gloucester in rural NSW.
After completing her intermediate school certificate she saw there were few employment opportunities: she was a young woman, in a country town and there was a war on.
Rene with one of her refugee students
'There were two jobs – one was behind a counter in a shop and I was useless at counting money, the other was as a dressmaker's assistant and I hated sewing. It was either become a teacher or a missionary. My mother would have had a fit if I'd chosen being a missionary so I told her I wanted to be a teacher'.
At the age of 14 she moved to Sydney to complete her leaving certificate and then her teacher training. In 1945 her lifelong commitment to education began, teaching Home Economics.
Rene had a great understanding of how to make teaching relevant to her students. When she taught at Port Hacking High, the local community had a strong beach culture – surfing was everything. 'The boys would be so proud, parading around in the board shorts they'd made. I think the fact that I didn't like Home Economics when I was a schoolgirl made me a better teacher. I understood what could be off-putting about the subject.'
Sadly one of the things that inspires her to keep active is the fact her husband of over 60 years died five years ago. 'Keeping busy means I'm occupied, otherwise I would miss him too much.'
Regardless of the sad reason behind Rene's involvement with Mercy Connect, the result is that many children from refugee families have gained from her wisdom and compassion as they adjust to life in Australia.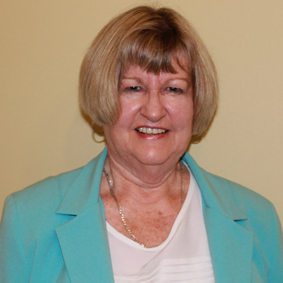 Valuable knowledge – Kay Hotschilt
In the corporate world, Kay would be a valuable asset – someone who's been involved with an organisation since inception.
She's had a lifelong connection to Mercy Sisters (since attending St Joseph's Primary Maclean on the Clarence River).
It's now her 10 year anniversary of involvement with Mercy Works. She was employed in 2002 as Mercy Works was being established. She worked as an administrative assistant until she retired in 2007. Since then Kay has continued as a volunteer in the office, at least one day a week.
She's seen an enormous amount of change in her time with Mercy Works.
Kay during a volunteer day at the office
'It's been wonderful to see Mercy Works grow so much and to be part of that. For me seeing Mercy Works take on large scale projects like bringing water to Fohorem has been particularly rewarding. I've seen the massive changes in PNG that Mercy Works has been part of, as the organisation has got involved in local projects and been able to get local women to run the projects too. That's so important.'
Back in the office in Sydney, Kay still plays a vital role – she, more than anyone, knows where everything is! From second handsets for phones, to knowing how to find people on the database, she's saved the current admin staff many hours of searching.
'One of the great things about staying involved is all the wonderful people I meet. You never know who is going to be at morning tea: old friends, new people. And of course the discussions are always so life-giving.'