Archived News Item
In Focus – NDIE in Pakistan
June 22, 2012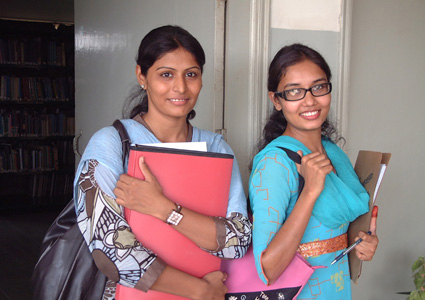 Standing on their own two feet
Last year Margaret Madden left her post as director of Notre Dame Institute of Education (NDIE) in Karachi confident that the local staff, trained by the Sisters of Mercy would be able to run the Institute themselves.
This year she returned in her role as mentor to see how the college was faring under its new director, NDIE graduate Audrey Juma.
Students at NDIE, Karachi
'Returning to NDIE after being involved for over 16 years felt like returning home. It was wonderful to be among people that were such a big part of my life for many years. I'm pleased to say even the college cat recognised me! I was very happy to see what has been happening there and was so impressed with what Audrey and the academic staff are achieving.'
'The staff have a very hard task. In Pakistan there is a mistaken perception that if something is run by foreigners it is automatically better. As a locally run institute, NDIE now has to fight against that. However they are doing a remarkable job and have made great progress on a number of fronts. It is now one of the best recognised minority education institutions in the country and one of the top two teacher education colleges in the country.'
'The Pakistan government has set a new education policy which changes the required teacher training from one to four years. In implementing this, Pakistan's provincial and national Education Ministries continue to seek the assistance and guidance of NDIE staff. That's a great reflection on the remarkable work they are doing.'
'It is likewise a great struggle for NDIE to introduce the required new teacher education courses. Finding the space and resources to educate students over four years instead of just one has been a significant challenge. Extra building space has to be provided for the increased number of students along with the necessary human and material resources. The Pakistan government provides only for its own schools, colleges and universities and still today over half the children and youth have no access to schooling.'
Baldia School – latest developments
Margaret also reported that progress is being made on building the school in Baldia town in the basti (slum) area.
'They're in the process of securing the land for the school and drawing up plans for the building. They've already spoken to contractors about the work.'
A new minority community basti has sprung up next to the existing. It is hoped the planned new school building will be able to provide education for those children as well.
Margaret noted some improvement in the terrible conditions. 'Many people are starting to build themselves more permanent housing from sun dried bricks – an improvement on the sticks and rags constructions that have been their homes. Some of the men who previously sat at home with little or no opportunity for employment incentive have found stable, low paying work in the nearby factories. It may not seem much, but it's so important to celebrate any advances, however small.'