Archived News Item
Improving the diet and health of African refugees
June 3, 2009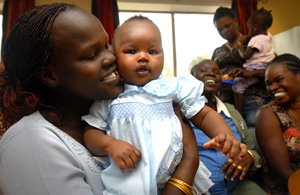 WORDS BY: Stephanie Thomas
For a group of African refugee women living in Sydney's outer western suburbs, the prospect of growing their own vegetables is very exciting.
"They want to grow things! This has been an important element that's missing in their lives," says Bob Thatcher.
"This business of growing stuff… it's an integral part of their whole life. [For these women], if you didn't plant, you didn't harvest, and if you didn't harvest, you didn't live!"
Bob is the General Manager of Mamre Plains Ltd., a work of the Parramatta Sisters of Mercy in western Sydney. It provides training and employment services for youth at risk, people with a disability, people returning Mamre Plains Ltd. to the workforce, and refugees.
During the last decade, there have been large numbers of African refugees resettling in Australia. Since 2004, the Mamre Refugee Programme has been supporting about 50 families from the war-torn countries of Sudan and the Democratic Republic of Congo.
But in that time, a serious health issue has emerged for these families. The number of people who have become overweight or obese has increased, and it is mothers who are most affected.
"The reasons for this problem are not difficult to discern," says Bob.
When many refugees arrive in Australia their health is poor. They've lived for long periods in refugee camps and have been unable to grow food. In Australia, they have limited access to African vegetables and foods, and are unfamiliar with the array of new foods and how to prepare them.
"With access to a disposable income for the first time, the purchase and consumption of fast food has become routine for these families," says Bob. It's cheap, quick and easy.
Another reason for this trend is that in the refugee camps, the capacity to afford fast food was a mark of affluence and prestige.
The effects of limited exercise are also impacting on the refugee families.
"In developing countries, the mere act of living provides exercise for people, especially women – carrying firewood, digging gardens, carrying water," Bob explains.
"With electricity and fresh water at the touch of a switch or tap in Australia, there is very limited daily physical exertion in household tasks such as cooking, washing and drinking water."
But the families associated with Mamre, particularly the women, want to overcome the problems of poor diet. "They are keen to be growing their own [produce] that they know how to prepare and use," says Bob.
With support from Mercy Works Inc., Mamre, in collaboration with the refugee families, is in the early stages of developing the African Refugee Farming Project.
Using an existing half-acre garden plot on the Mamre farm site, the families, particularly women and girls, will be able to develop gardening skills, grow fresh food and learn about basic nutrition, food handling, kitchen hygiene, menu planning, simple food preparation and the role of exercise in healthy living.
About 200-300 people will benefit from the project initially, but according to Bob, there are many other African refugees in the area who would like to get involved.