Archived News Item
"IF IT IS GOD'S WORK IT WILL CONTINUE…"
August 7, 2015
"If it is God's work it will continue…"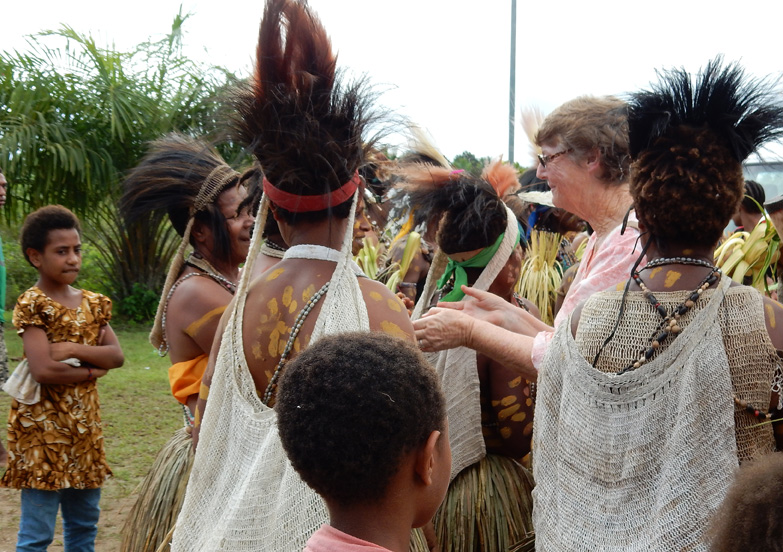 Maureen Sexton rsm went to Kiunga in the Diocese Kiunga-Daru, Western Province of PNG as a volunteer with Mercy Refugee Service in 2003. Shortly afterwards she was joined by Catherine Corbett rsm. The original focus of their ministries was West Papuan refugees living within the borders of the Diocese. Overtime the ministries of Maureen and Catherine were merged with other projects supported by Mercy Works ISMAPNG. In 2010 this was formalised as the Mercy Works Kiunga Program (MWKP) in partnership with the Diocese Kiunga-Daru.
MWKP currently financially supports, monitors and mentors eight (8) programs / projects under the headings of Village Health, Education and Self-Reliance. Examples of the programs / projects include Village Health Volunteers in collaboration with Catholic Health Services, Tertiary Sponsorships and ongoing support for students at St Gabriel's Technical Secondary School, Child Care Centre and an Eaglewood Plantation project managed by the Diocese. The primary goal of the MWKP staff is to assist project teams to do what they want to do in a meaningful way. Catherine Corbett returned to Australia last year and Maureen Sexton ended her tenure in early July '15.
When it became apparent that the MWKP would be handed over to lay administration, considerable thought was given to putting in place appropriate supports for the members of the team – Steven Dude (Co-ordinator), Juliet Hmentori and Josaiah Simon. In Feb 2015 Sr Gaye Lennon, Mercy Works Coordinator of Overseas and In-country Program (MWCOIP) spent time in Kiunga with Steven, Juliet and Josaiah discussing their concerns and needs regarding the handover. Steven Dude became the acting coordinator and Maureen was responsible for assisting them to put in place responses to their concerns, for example clarifying the role of the Advisory Committee, assignment of supporting roles and clearly defining internal controls for financial management of MWKP project money.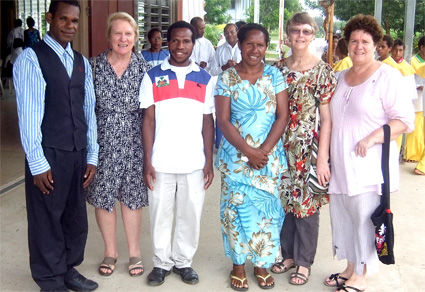 Aside from regular visits from the MWCOIP, Steven, Juliet and Josaiah will meet with the Mercy Works Program in Goroka and Mt Hagen twice a year. There is also an evolving Mercy Family amongst the five Mercy Works Programs / projects across East Timor and PNG. All team members come together every two years to share, learn and strengthen their sense of belonging to a wider Mercy Family. The last gathering was in Sept 2014. In May this year, Ailsa McKinnon rsm (CEO Mercy Works) and Gaye Lennon rsm came to Kiunga for an official public handover. This took place after communion at a Sunday Mass which affirmed the presence of Mercy Works in the Diocese.
On the last Sunday in June this year the people said their farewell to Maureen and importantly, they acknowledged their appreciation of the presence of Mercy as expressed by Catherine and Maureen over the years of their ministry in the Diocese.
Barbara Broad, representing the Northern Community of the Institute of Australia and Papua New Guinea, was present with Maureen and shares her experience.
On the weekend of June 26, I was in Kiunga, Papua New Guinea to join with Maureen Sexton as the people of Kiunga officially said goodbye and thank you to her. I felt honoured to be there and to listen to the stories of the people in relation to Maureen and her ministry in the Daru-Kiunga Diocese since 2003.
Maureen initially went to Kiunga as part of the Mercy Refugee Service to be among the West Papuan Refugees. As Mercy Works was established in Kiunga, the focus of her ministry changed and she coordinated Mercy Works activity there. She became involved in supporting a variety of programmes that are sponsored by Mercy Works in the diocese.
The day began with a crowded Church for Sunday Mass, with the focus being that of thanksgiving for Maureen's response in faith to the people of Kiunga through her ministry. In the afternoon there was a sharing of food and presentations by the many groups within the parish – a great variety of items were performed as part of these presentations to Maureen.
I was particularly moved by the presentation from the leader of the West Papuan Group who spoke of the experience of being a refugee. He likened being a refugee to being held in chains and in presenting Maureen with a chain necklace he thanked her for breaking the chain for them as a consequence of her presence among them.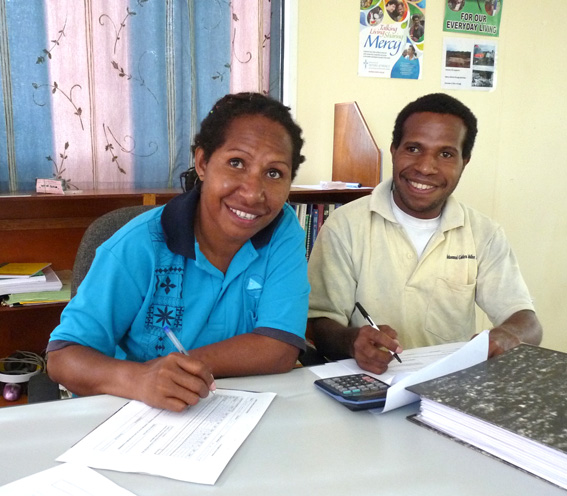 In saying goodbye Maureen acknowledged, with sadness, that there is no sister able to come in her place, however she stressed that the spirit of Mercy will remain and Mercy Works will continue.
Maureen has worked tirelessly with Steven, Julie and Josiah preparing them to take over the reins and so ensuring that the work of mercy will continue. She reminded people of the saying of Catherine McAuley: "if it is God's work it will continue…"

Messages to: Maureen Sexton rsm
Barbara Broad rsm
Photos:
Top: Maureen with the women.
Middle L-R: Steven Dude (Co-ordinator), Ailsa Mackinnon rsm, Josaiah Simon, Juliet Hmentori, Maureen Sexton rsm & Gaye Lennon rsm.
Bottom: Juliet and Josaiah