Archived News Item
Icon Painting and Deep 'At-One-Ment'
February 27, 2018
Margaret Broadbent RSM and Barbara Bolster RSM recently attended the 'General Icon Painting' workshop held at the Australian Catholic University, Fitzroy campus in Melbourne. The Course went over five days and was centred around the prototype of the sacred Icon entitled: "The Holy Mandylion".
The five day intensive, directed by St. Petersburg Iconographers Philip Davydov and Olga Shalamova, lent itself to many hours of silent concentration and reflection.
"I was aware of being open and attentive to what would come out from within during the many hours of concentration and intensive detailed work," said Sr Margaret.
"The days of working with this particular Icon took me back, once again, to my Christian roots and to recall yet again the significance of Icons in the Eastern Orthodox Churches and the devotional artworks of Christ in the Western artistic tradition."
Being new to painting, the week for Sr Barbara was a steep learning curve; however she found tranquillity in the quiet and reflective nature of the course.
"For large parts of the five days there was no noise," said Sr Barbara. "Our teachers, Philip and Olga, would visit people quietly, at their easel, to advise on next steps and then leave us to our thoughts and our own period of reflection."
"What fascinated me is that we were all given the same icon to paint and yet at the conclusion thirteen very different looking icons were produced," continued Sr Barbara.
Sr Margaret describes her personal experience as being "the deep pull of faith and belief into a deeper at-one-ment into the Mystery of Life in all its fullness".
" I feel that after ten years of teaching and studying Iconography, I am just beginning to open up to new fields in which I will be shown many new, creative possibilities."
Sr Margaret encouraged Sr Barbara to try her hand at Icon Painting after watching her use a paintbrush.
"She has the right disposition and attention for Icon Painting," said Sr Margaret. "Her ability to use brushes and pigments for a beginner was very good. She understood directions easily and gave techniques a go with a calmness needed in Icon Painting."
Even though Sr Barbara had never painted before, Sr Margaret could see that she had the concentration needed for Icon Painting, especially at a beginner level.
"There is a lot of mathematics involved in Icon Painting," said Sr Barbara. "There is a real process to it. We started with pencil and paper, and then graduated to paint and paper, and on day three we were given our boards on which to paint."
"I was really anxious when I was given my board and we were invited to commence with paint," continued Sr Barbara. "I was surprised at how little paint was needed; we mixed egg yolk with ground up pigment and were encouraged to use it sparingly on the board."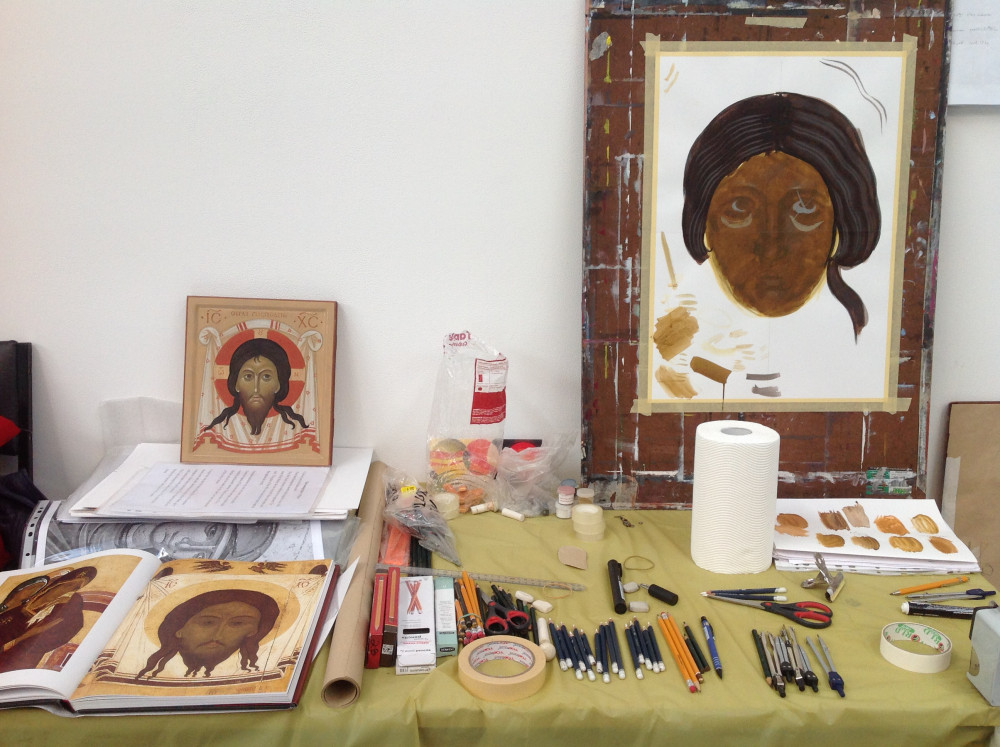 "I surprised myself so much. I never saw myself as a creative," said Sr Barbara. "I think I could be doing something more to nurture this side of myself. There is a screen printing course in a programme I am commencing in March. I think I will enroll in that!"
On August 15 of this year, Sr Margaret, Australian Co-ordinator and Sr Barbara, her Assistant will lead a group of twenty three Australian Mercy sisters to Russia. The Pilgrimage – 'Visions of Beauty' – will take the Pilgrims to St. Petersburg, Novgorod and Moscow.
Messages to: Margaret Broadbent RSM and Barbara Bolster RSM