Archived News Item
I HAVE A VOICE
September 10, 2015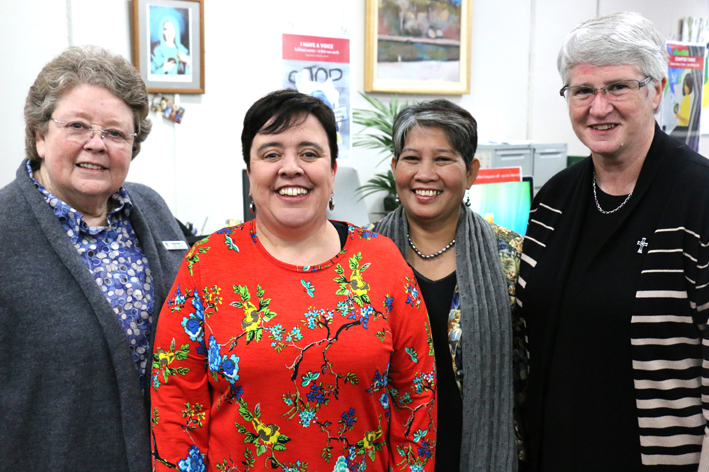 A ground-breaking book, focussing on the lives of 40 trafficked women in the Philippines and the sinister and structural oppression of young women on which the sex trade thrives, was launched last week. The book, by Sister of Mercy Angela Reed PhD and Marietta Latonio, overturns the popular and sensationalised image of trafficking as a one-off event involving kidnapping and chains.
The book, I HAVE A VOICE: Trafficked Women in Their Own Words, is expected to inform the anti-trafficking movement worldwide. Angela will continue to focus on global trafficking in her new role as Resident Sister of Mercy at Mercy Global Action in New York. The book, illustrated by Sr Marie Pegar SFX, was launched at Our Community in West Melbourne, before Angela left Australia to take up her new position.
For seven years Sr Angela worked with the 40 Filipino women who had been trafficked for sexual exploitation in the Filipino province of Cebu. The women's stories, told in their own words, reveal that the women, rather than being subjected to random acts of victimisation, were subjected to a slow process of victimisation beginning in early childhood; experiences that made them easy prey to traffickers.
Angela stated that "Sex trafficking is a very complex global problem and there is no one homogenous sex trafficking experience and those trying to combat trafficking need to understand the complexities involved in order to better serve the trafficked person."
During the launch Angela stressed that the book is a collation of stories narrated by the experts. "They are the women who have experienced trafficking. Their stories hold deep meaning for all of us and inform us about those who are vulnerable to being exploited," she said.
Sr Angela, a long-time member of ACRATH (Australian Catholic Religious Against Trafficking in Humans), said for too long sex trafficking has been attributed to poverty alone. However, trafficking is more complicated and whilst the cause is demand for sex services, traffickers prey on those who have myriad vulnerabilities, which can include childhood abuse, social isolation, lack of education and specific 'local' factors. Tragically, for many women, sex trafficking is part of a lifelong continuum of violence that begins when they are young girls, some as young as three.
"Once we have a better understanding of sex trafficking, we can develop better responses, allocate aid and other resources more effectively and advocate in a more focussed way," Angela said.
"There has been little research done that involves qualitative, in-depth interviews with trafficked women. Some quantitative research is being done, though that is very difficult because sex trafficking is an illicit trade. It is more important that we understand the nature of trafficking and its causes if we are to respond effectively."
The book provides 22 case studies, which enable the reader to study in depth with focus questions and points to ponder as a guide. It holds significance not only for those women who have experienced similar exploitation, but is also valuable to social workers and anyone interested in working to eliminate this sinister practice.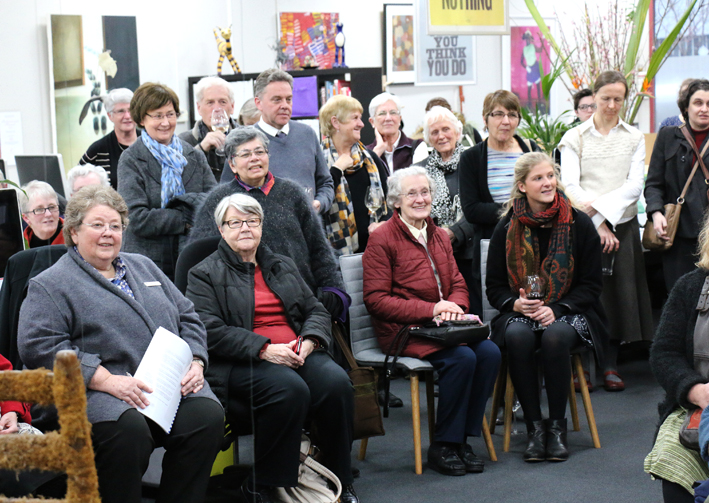 More than two thirds of the women interviewed by Angela had suffered sexual abuse from a young age. She said this challenged and even dispelled the common view that sex trafficking is a one-off event, or that young girls are snatched from their villages and safe communities and sold, or forced into sex work.
Angela said the response to her book at the launch revealed a growing understanding within the sector, but it was important for policy makers and politicians to understand the impact and ramifications of aid funding cuts to vulnerable women and girls.
Messages to: Angela Reed rsm

ACRATH website: http://acrath.org.au/
Photos:
Top: Faye Kelly rsm, authors Angela Reed rsm & Marietta Latonio, Annette Schneider rsm.
Bottom: Sisters and friends at the launch. [Photos – Anne Walsh]