Archived News Item
Hurrah for Foundations
February 25, 2015
HURRAH FOR FOUNDATIONS (and FOUNDRESSES!)
Question:
In addition to their being Sisters of Mercy, what do Sisters Ursula Frayne, Xavier Maguire, Philomene Maguire, Aloysius Martyn, Ignatius Walsh, Alocoque Ryan, and Agnes Graham have in common?
The answer is that each of these women was a Mercy foundress, one who carried the torch of Mercy to locations in Victoria where Sisters of Mercy now live and minister. [Let me emphasise at the outset that I am writing purely from a Victorian perspective though, mutatis mutandis, the same could be written for anywhere in Australia where Mercy Sisters made foundations]
Second question:
Why am I writing about these women? One reason is that December 7 2014 marked the 120th anniversary of the death of Agnes Graham. 'Who is Agnes Graham?' many of you may ask, particularly if you have not lived in Warrnambool, Ballarat or Colac. Agnes was a pioneer Sister of Mercy in the Warrnambool community, arriving there with Philomene Maguire in 1872. In 1881 she led the foundational group of sisters to Ballarat and seven years later she established a foundation in Colac. A valiant woman by all accounts, a trailblazer, yet, apart from the locals, her anniversary went largely unacknowledged.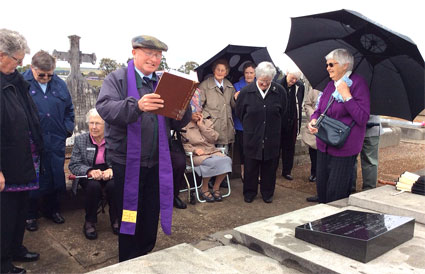 On the actual day twenty Sisters of Mercy gathered with Father Michael O'Toole and the local Catholic community of Colac to celebrate a Mass of thanksgiving for the life and contribution of Agnes Graham. Local sister Aileen Moloney retold the story of Agnes' life, her joining the Baggot Street community in defiance of her father's wishes, her ministry in England, her volunteering for the Australian mission where, after ten years in Warrnambool, she led a group of sisters to establish a foundation in Ballarat and thence to Colac. Aileen recalled the account of Agnes' funeral published in the 'Colac Herald' of December 11 1894. It seems that between 350 and 400 persons walked in procession from the Church to the cemetery, there forming a guard of honour through which the members of the Hibernian Society carried the coffin to the graveside. Of Agnes the Bishop of the time (Dr Moore) stated that in the course of his travels he had never met a more religious or devout woman, and that she would be a great loss to the Catholic community. A hundred and twenty years later, following Mass the sisters joined in the blessing and dedication of a commemorative plaque in Colac cemetery. How moving it was (in quite inclement weather) to sprinkle holy water on the grave where Agnes and other pioneering sisters are buried, to pray together and to sing Catherine's 'Suscipe' thus linking our present Mercy reality to all that had taken place in Colac since Agnes' arrival there in January 1888.
There is another influence which inspired my writing and that is the prayer we used for Foundation Day 2014. Now we all know that for Sisters of Mercy, the main focus of December 12 has traditionally been Catherine and her companions – recalling how they made their vows at Georges Hill and hurried home to their community to begin officially the work of the newly-established Institute of Mercy. Last year, in the prayer prepared by Margie Abbott rsm, the focus was on Australian foundations and perforce the focus moved to foundresses who followed after Catherine. It started with the foundresses of the Congregations which formed the Institute of Sisters of Mercy of Australia and Papua New Guinea (ISMAPNG) in 2011 – Ignatius Croke, Aloysius O'Driscoll, De Sales Meagher and their ilk. In subsequent discussion, however, it became clear that there were many more foundresses whose names and stories are not well-known among us and yet our existence in the places we now live and minister is testimony to their faith, their pioneering spirit and their courage.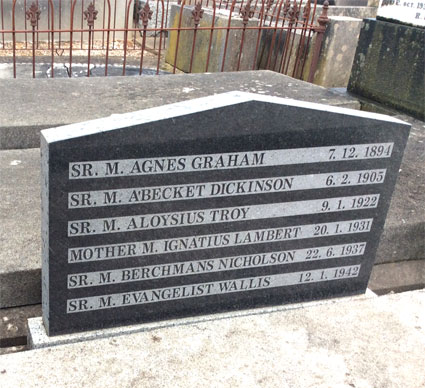 We all have our local histories, of course, in which the memory of our foundresses is perpetuated. In Bendigo Aloysius Martyn's story is honoured; in Warrnambool Philomene Maguire's memory is sacred. The same can be said for Yarrawonga and Ignatius Walsh and for all the others. My point is, however, that the effect of the lives of these women goes beyond local boundaries. In Victoria where many houses amalgamated with Melbourne – ten in 1908, four more between 1914 and 1936, the story of the various local foundresses tends to be less well known. Whilst acknowledging the impact that Ursula Frayne has had on our Mercy History in Australia both in the West and the East, I would like to suggest that shoulder to shoulder with her stand other women who brought Catherine's vision and her message of Mercy to other parts of Victoria and whose story is equally our story.
One consequence of our reconfiguring of many of our Mercy Congregations is that the treasures of each foundational story belong to us all. The riches of the annals of Shepparton and Seymour, of Casterton and Kyneton are our riches. The women who were the vanguard of Mercy presence here in Victoria are our founding mothers; we need to hear again the story of what inspired them, how they coped with the uncertainties of a harsh climate, uncertain means of transport and communication, lacking at times the wherewithal for the necessities of life. Let us keep their memory alive! In the spirit of Jesus' disciples who, after his feeding the crowds gathered up the fragments of bread and fish, let us gather our foundational stories so that nothing is lost. We will find that what we have is so much greater than we imagined.
There are other foundresses whose deeds contribute to our Mercy heritage Institute-wide. I am mindful of sisters who left their mother houses to establish branch houses, often in remote locations. I am mindful of pioneers in more recent times who took the Mercy vision to places such as Papua New Guinea, Pakistan, the Kimberley and Timor Leste, or into ministries such as motor missions or working with refugees and asylum seekers. Clearly, in these instances the sense of 'foundation' been broadened but the spirit animating these sisters is the spirit which inspired Catherine. Here too are stories to be told, memories to be kept alive.
In conclusion as I thank Margie Abbott and my other Mercy sisters for helping me widen my perspective on foundations, may I express a wish. It is that together we will resolve to keep alive the memory of our foundresses – of Xavier and Philomene Maguire and Agnes Graham, of Aloysius Martyn, Ignatius Walsh, Alocoque Ryan and Ursula Frayne; that we will tell and re-tell the stories of these women who were prepared to tread unknown paths and blaze new trails in spreading the Good News to God's people wherever they were; that we will honour all our foundresses and claim their stories as our own! As the song so emphatically states: Amen we affirm! Amen we encourage! Amen we bless and we celebrate! Amen!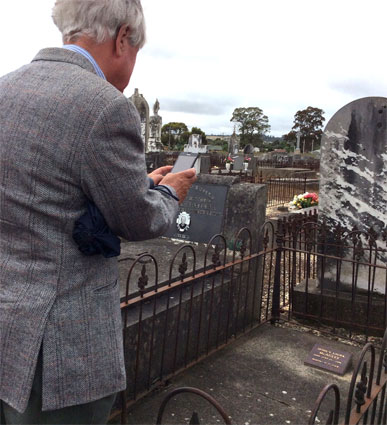 There is an addendum to the Colac story! Also buried in the Colac cemetery is Jessie Tomkins McAuley, wife of 'Wild Willie'(nephew of Catherine McAuley) and mother of his children, one of whom became Sister Catherine McAuley in the Kyneton community and another of whom settled in New Zealand, becoming the great-grandfather of Les Stewart, a Mercy Associate who lives in Creswick near Ballarat. Les had never visited his great-grandmother's grave and the celebration of Agnes Graham's anniversary was the catalyst for his being able to do so. Jessie would have been pleased and proud to see her great grandson accompanied by many sisters of Mercy gathering to pray at her grave and to hear the strains of the 'Suscipe' repeated there thus to honour her role in the story of God's unceasing merciful love.
Messages to: Berenice Kerr rsm